Advanced Pain Management
Advanced Techniques and Protocols for Integrative Pain Management of the Spine | RF Ablation | Spinal Cord Stimulation | Stem Cell Therapies
Pain Management - Workshop
Differentiate yourself from other pain management practices and expand your pain management practice while utilizing these lucrative specialty treatment options offered as part of Advanced Pain Management. These "in-demand" procedures will allow for physicians to receive the necessary skills training to treat and manage pain for the following:



Offer patients a non-surgical option for the management of (neck) cervical spine pain with Cervical Epidurals and Cervical Facet Joint Injections.
Offer alternatives for those patients suffering from chronic pain with the introduction of Morphine (Intrathecal) Pump therapies (trial implantation).
Chronic pain with radicular component and post laminectomy syndrome where patients suffer from neuropathic pain or where conservative treatments have failed to control pain (i.e. failed back surgery) using Spinal Cord Stimulation (SCS).
Patients suffering from axial pain with positive medial branch block using RFTC – Radio Frequency Thermal Coagulation for lower lumbar spine pain management.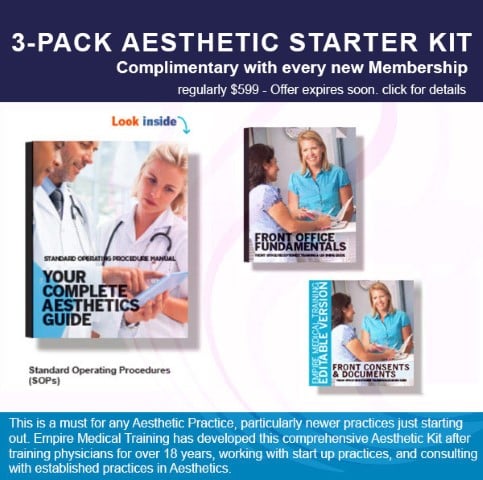 The goal of the workshop is for physicians to leave the program with a level of proficiency that will allow them to perform the various procedures on patients. During this type of training you will serve as a Fellow working under direct supervision of our Board Certified Pain Management instructor. After completing this training, the physician will also have the ability to pursue additional certification pathways.
A growing trend in the treatment of chronic pain management is the introduction of intrathecal morphine pump therapy as well as spinal cord stimulation SCS). Morphine pump therapy is a surgical procedure that is reimbursed well by medicare ($3500-$4000) and offers patients suffering from chronic pain or abuse solutions in managing their pain. Failed back surgeries more so than terminal cancer patients is the most common indication for this procedure and a trial period using the intrathecal medication in conjunction with their oral medication is required to access whether the patient received adequate pain relief over the trial period.
Pain Management Courses in Injection Procedures, Fluoroscopic Guidance and More
The demand for SCS is growing rapidly as many patients are looking for a non-prescription approach to control their chronic pain and reimbursement for these procedures (trial implantation and permanent implantation) is high. Spinal cord stimulation (SCS) utilizes electrical impulses to relieve such chronic pain conditions of the back, arms, and leg areas and is one of the newer technologies that is alternative to prescription therapies for chronic pain sufferers. This surgical procedure is very safe and not difficult to perform as it is similar to the procedure used for epidurals. A trial implantation is performed to determine if the patient will respond positively to the device (reduced or eliminated pain) which lasts about (7) days before a permanent type of device is implanted.
Non-surgical options for the management of the pain associated with cervical spine (neck) are also in high demand with the use of epidurals and cervical facet joint injections. Epidural steroid injection is the most commonly performed injection of all the injections and are very common as a result of previously failed back surgeries. There are several methods that are used to perform an epidural steroid injection, however we will teach the intralaminar approach.
An intralaminar epidural injection is done by placing a needle between the bony vertebrae in the empty space that surrounds the spinal cord. In this approach, a steroid is injected directly around the dura, the sac around the nerve roots that contains cerebrospinal fluid.
Cervical facet joint injections will also be taught and discussed in detail as to the need for, pathologies related to, and the safe administration of these injections. Cervical facet joint injections are not as common as the epidurals but are needed depending upon the conditions presented by your patient.
Included in the Advanced Pain Management course will be extensive didactic in diagnosing the candidates that would benefit from this type of device or procedure, protocols, and necessary information to perform this procedure including the billing and coding. There is no "hands-on" for some of these procedures but we will incorporate cadaver or model training as applicable. Preceptorships are also available upon request through Empire Medical for more extensive training in these procedures.
Advanced Pain Management Course Objectives
Upon Completion of this program, the physician should be able to:
Expand your current pain management practice to include the sub specialty services outlined in our advanced pain management workshop as well as attract new and existing patients using proven business and marketing methods.
Be able to evaluate the patient with chronic pain, understand the need or desire for these advanced procedures and how they will benefit your patients.
Gain a thorough understanding of the various pathologies and treatment options available for your patients for these specialty procedures. Learn to safely and effectively administer the latest pain management procedures utilizing established protocols and the latest technologies available. Utilize specific methods for compliance to help ensure correct procedure and help prevent over-utilization of services.
Develop and acquire new skills relating to your pain management practice using models and/or cadavers for the training and application of these procedures.
Employ methods to ensure the appropriate and consistent reimbursement for each high paying procedure.
Properly code each procedure adhering to strict medical necessity and patient selection criteria.
Disclaimers
Enrollment in a program seminar does not guarantee that a physician is sufficiently trained to perform a procedure. The physician will receive a certificate of achievement but this does not imply, nor is it intended to indicate any type of certification to perform a procedure. Individual instruction is available with certain program topics.
Click Here to See what others are saying regards Empire Medical Reviews