Home
/
Pain Management Workshops
Pain Management Workshops
We Provide the Most Comprehensive Pain Management Training
Empire offers 8 separate workshops (Complete List of workshops provided alongside this page) and training programs from introductory courses in Pain Management to very advanced, comprehensive workshops with training over several days. For those interested in attending more than one course, take a look at our Pain Management Membership where you may attend all workshops over a 2 year period for one low price.

Dr. Romane with Dr. Shaun & Dr. Sha giving their testimonial about training.
Dr. Cosentino and Dr. Romane at the Albert Einstein College of Medicine in NYC.
Pain Specialty Membership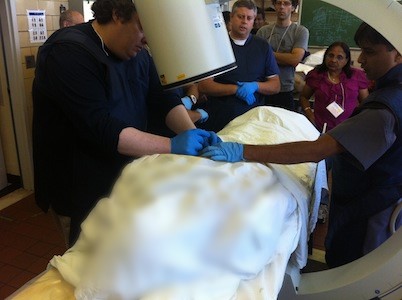 One-on-One C-Arm Fluoroscopy Training at the Albert Einstein College of Medicine
Physicians interested in learning Pain Management procedures may register for any Single workshop or take advantage of our Pain Specialty Membership and attend all Pain Management training workshops at 1 low price, over a 2 year period.
All Empire Medical Training Pain Management training programs deliver the most comprehensive and detailed didactic information on the latest pain management protocols. In addition, each training program provides physicians ample time to master the techniques during the Hands on portion of the training. Empire Medical Training has successfully trained over 30,000 physicians since 1998 and remains a Pioneer in Pain Management training and certification.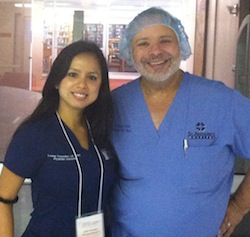 Dr. Romane with Lorena Cosentino
Although we present information on practice development, our Pain Management training is extensive with a strong academic focus. Our lead instructor, Dr. Romane, is a Pain Management Physician with credentials from Harvard University and Hahnemann University Hospital. Dr. Romane remains a favorite instructor of Empire not only due to his knowledge and expertise but also for his patience and desire to train other physicians.
The Hands On component is also extensive and, depending on the location of the event, is held at the local teaching hospital such as the Albert Einstein College of Medicine in NYC. Other venues include Texas and Florida. Please refer to our calendar of events for specific locations.
Courses in Interventional Pain Management, Adjunctive Therapy and More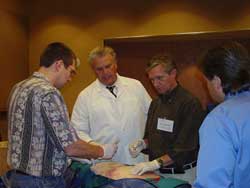 Individualized Instruction at the
Fort Lauderdale Training
Hands On training is conducted utilizing volunteer patients, Human Cadavers as well as custom fabricated injection training models. Pain Management vendors are also invited to demonstrate and display their state of the art equipment, which is also utilized for the attending physicians at our pain management training programs.
For more information about each workshop, please click on the individual workshop description. To get started today and register for either an individual workshop or the specialty membership, you may use our secure online registration form or contact an Empire Medical Training representative today.
Dr Ernest Roman teaching Shoulder area Injections with the help of Dr Rebecca Gelber
Dr Ernest Roman teaching Ultrasound Guided Injection Points Of Knee
Why Choose Empire?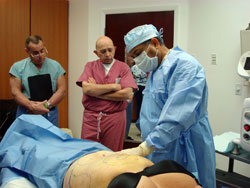 Individualized Instruction
Most Experienced- 18+ years training medical professionals. (Beware of companies claiming the same) Over 45,000 successful graduates.  Faculty with over 10 years training with Empire, no students or nurses as trainers like other co, Over 600 seminar workshops held annually,
Best Quality-  IPADs and Computer Tablets used during all Training,Rapid Retain Repeat®  method of training, Expert Faculty, with highest credentials, i.e Yale, Johns Hopkins (Dr. Anne Roberts),Empire-Wow-Refund-Guarantee™ - quality guaranteed or your money back plus your travel expenses too! No other company can match our guarantees, Empire-Wow-Hands-On-Guarantee™ - Free One on one preceptorship guaranteed if more training needed! Complete manuals and training materials, program starter kits, all included free, much more. Watch hundreds of real Video Testimonials from Empire on YOU TUBE, or on our about us link above.
Best Value- We remain the only training institution to offer comprehensive training in over 32 different Aesthetic, Medical, Surgical and Business topics and in more cities and venues than anyone else. Our membership model allows you to attend all 32 courses FREE OF CHARGE, that means access to over 600 seminar workshops offered every weekend throughout the USA, unmatched in the industry!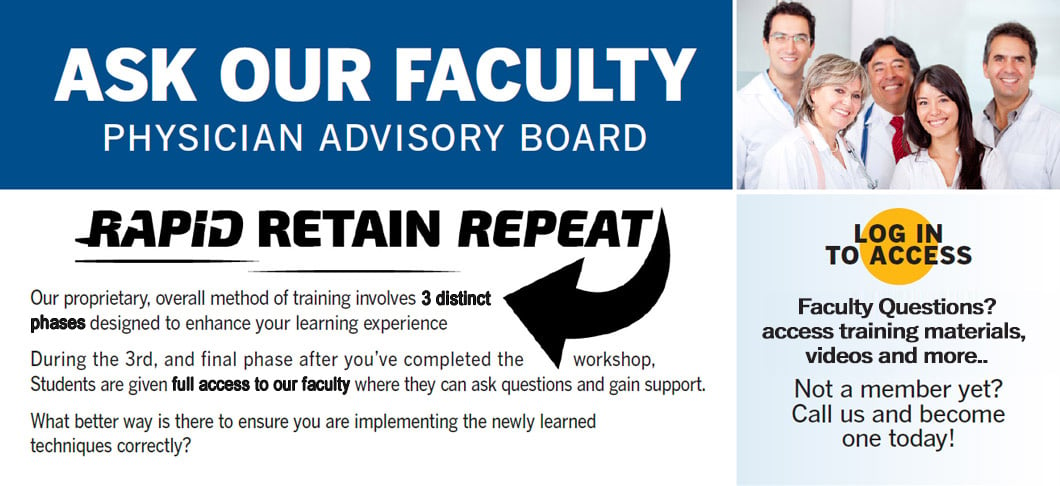 Pain Management Workshops