Allergy Test and Treatment Training
Testing, Treatment and Immunotherapy Solutions for Patients Suffering from Food, Drug, Venom, and Environmental Allergies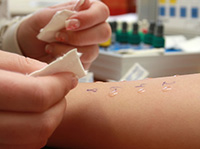 Allergy Test and Treatment Workshop
The opportunities associated with being able to safely and effectively treat your patients suffering from allergies are significant and can be rewarding to both the patient and the physician. The allergy market and subsequent immunology is underserved by the medical profession. For most physicians we tend to treat the symptoms and side-effects associated with allergies and provide your patients solutions that can increase their quality of life. There is an large increasing demand for board-certified allergists and immunologists in the United States. Patients actually have difficulty finding physicians to treat their symptoms which in many cases are dismissed by their present physician and affects their quality of life. Primary care (PCPs), Pediatricians, and Internal Medicine physicians who complete allergy testing and treatment training will have a significant opportunity to provide high demand services for patients searching for these treatment options while creating additional revenue streams for their practice.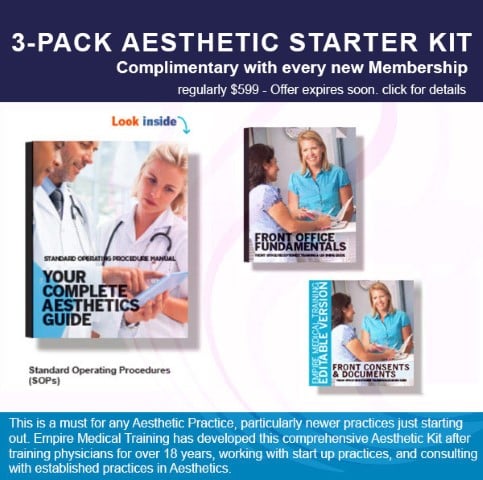 Empire Medical provides comprehensive training in Allergy Testing and Treatment. Our seminar training program will prepare you to integrate Allergy Testing/Treatment into your practice and help your patients suffering from allergies. Many physicians treat the symptoms of allergies without knowing what specific allergies patients have. Allergy testing allows physicians to determine the IgE allergens that cause the problem and to administer and monitor the effectiveness of treatment, just like any other disease or medical condition.
Identifying the need:
50 million Americans are affected by allergies (as reported by The American College of Allergy, Asthma, and Immunology)
13 million medical visits are made annually because of allergy symptoms
Currently less than 5,500 board-certified Allergists and Immunologists in the United States
20% of your patients will suffer from allergies in the average primary care practice
Allergy is the 5th most common chronic disease in the U.S. across all ages
Allergy is the 3rd most common chronic disease in the U.S. among children
Empire Medical's Allergy Testing and Treatment Training gives physicians new opportunities to reach out to their present patient base and provide them with a much needed medical service. People who can identify and resolve patients' allergies have a significant opportunity to meet a need while boosting practice revenue.
Allergy Test and Treatment Training - Overview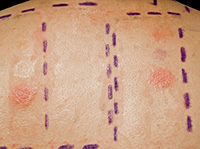 Allergy Testing
The Allergy Testing and Treatment seminar training covers specific medical protocols of the various allergy tests and treatment options. From the initial consultation through testing and possible immunotherapy or desensitivity treatments are discussed. Each participant will receive all needed information to be able to incorporate these procedures immediately as well as offer alternative treatment options that can be used in combination for better outcomes.
During the course study you will be presented with the most updated protocols and techniques available with professional guidance. You will understand the patient selection criteria and how to evaluate which patients are the proper candidates for each type of test or treatment option. You will learn the various tests available and approved for testing pollen, molds, dust mites, animal dander, insect stings, foods, and medicinal allergens with an emphasis on patients with pre-existing conditions such as asthma or compromised immune systems.
The course discusses in detail the allergy cascade for both IgE and Non-Ige allergic reactions. Food sensitivities are differentiated from the other types of tests and treatment options and include the challenge testing and elimination diets. For IgE allergic reactions the types of allergy tests you will receive training in are the various skin tests and in-vitro blood tests. Asthma and allergies treatment options are also discussed in detail as there is additional testing that can be used to isolate the allergen sources. Throughout the training you will learn how to safely determine the appropriate tests needed as well as which different treatment options are available.
In treating allergies, program participants will learn how to teach their patients how to eliminate or minimize exposure to allergens. Physicians will also learn how to provide immunotherapy options for patients with the latest standards of care as well as de-sensitizing therapies that would require extended treatments depending upon the patient response, number of allergies, and severity of the allergies.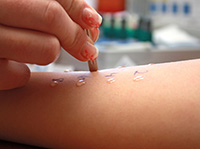 Allergy Treatments
Most insurance plans will pay for the office visit and lab costs associated with allergy treatment. Allergy testing has a relatively low start-up and maintenance costs, making it a great and easy medical treatment to add to your present medical practice. During the program you will learn exactly how to code and bill for the procedures as well as choosing an allergy lab for the practice.
There is significant revenue potential and opportunities associated with and in adding allergy services to your practice. The demand and need of more qualified physicians to treat patients with these conditions is growing and is underserved by the present health system.
Objectives for Allergy Test and Treatment Course
Upon Completion of this program, the physician should be able to:
Evaluate and understand the allergy patient
Learn the various tests associate with IgE allergies and indications for :
• Skin Prick Testing
• Skin Patch Testing
• Skin Intra-dermal Testing
• Radioallergosorbent Testing (RAST)
• Total Serum IgE Concentration Testing
• Leukocyte Histamine Release Testing
Gain an understanding of Food Allergies (Ige mediated and Non-Ige mediated) and Treatment Options:
• Challenge Testing (when appropriate)
• Elimination Diet
• Various skin and blood/serum testing solutions
Receive specific knowledge of Allergies and Asthma and different treatment approaches:
• Bronchial Provocation Testing
• Elimination of Allergens (epithilia, molds, and airborne panels)
Learn how to integrate these new medical procedures immediately
• Forms and Consents (CD)
• Protocols for Testing
• Allergy Laboratories – who do I choose?
• Supplies and sources for allergens
Pathways to further extend your continuing medical education including memberships in various allergy professional organizations.
Billing and Coding Regulations and Guidelines.
Learn specific business and marketing techniques to financially grow your practice.