Advanced Medical Aesthetics Training Courses
We Provide Advanced Medical Aesthetics Training
Forehead Injections
Your patients will be asking for these procedures! Although they are advanced, they are simple to learn and perform. Prior to attending this advanced aesthetic workshop, attendees are required to attend our Comprehensive Botox Workshop and Hands-On Dermal Filler Program or, demonstrate proficiency in these procedures from prior training. Don't limit yourself by just learning the basic Botox / Dermal Filler procedures. Some of these techniques that are in high demand include enhancing lips, adding volume to cheeks, performing a "non-surgical face lift" using Botox Cosmetic and Dermal Fillers. At our aesthetic workshops you will learn these techniques and a variety of other advanced Botox/Filler procedures. Although these are comprehensive aesthetic courses with discussions in a variety of other aesthetic procedures, the focus of these workshops is to learn Advanced Techniques in Botox Cosmetic and Dermal Fillers.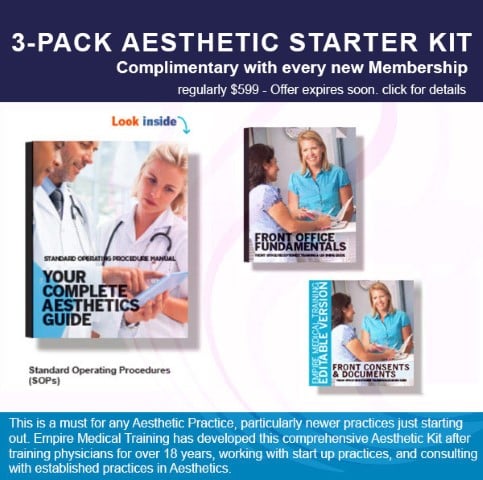 In addition to advanced Botox Cosmetic and Dermal Filler procedures, our advanced medical aesthetics training will instruct you in the most common, most effective chemical peel procedures that will produce nice results for your patient.
Most physicians and Health Care professionals at some point will integrate Laser and IPL treatments to their practice, so we have included specific, introductory aesthetic training in this area as well.
This aesthetic medical training program will provide you with hands on instruction as well as demonstrations of the advanced techniques in Dermal Fillers, Botox, and Skin Rejuvenation (attendees should already have experience in performing Botox/Dermal Filler injections). The amount of hands on training you will receive will depend on your experience as well as the comfort level the instructor has with your skills. This aesthetics course is restricted to Physicians, Dentists, Nurses, and PA's only.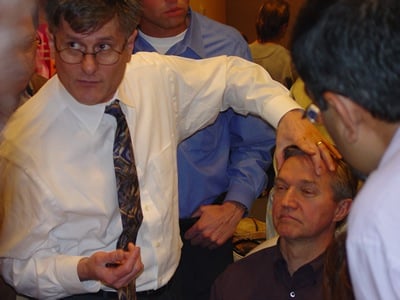 After gaining a level of proficiency in performing Botox and Filler injections, you will soon learn that there are many patients looking for these more advanced techniques. Advanced procedures such as Botox for the "Sad Smile" or Dermal Fillers for volume or cheek enhancement are common requests from the patient seeking aesthetic care. (a detailed list of every procedure you will learn is listed below).
Our Advanced Aesthetics Courses will also demonstrate techniques in skin rejuvenation which are simple to learn, inexpensive to add to your practice, and can be a very lucrative addition to an aesthetic practice.
In addition to the advanced techniques in Botox and Fillers you will learn how to evaluate the skin to prescribe medical grade cosmeceuticals. This is an area of aesthetics which is often overlooked but one of the fastest ways to create another revenue stream, because it doesn't take a great deal of time to maintain. Many physicians have created a separate income of $100,000 or more to their practice by learning to integrate this retail segment of aesthetics.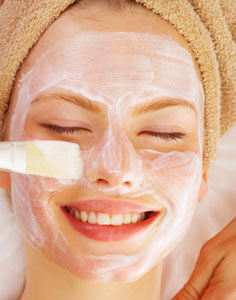 Medical Grade Chemical Peels (with or without microdermabrasion) are simple to perform and create dramatic results for the aging (fine lines and wrinkles) and photodamaged skin (hyperpigmentation, reds and browns). You will learn the two most common and effective chemical peel treatments for these common conditions, which can be performed in less than 15 minutes in your office. These procedures are not only in high demand but command generous earnings as well.
Botox, Dermal Fillers, Laser Medical Aesthetics Courses and More
Another aspect of our advanced aesthetics course will discuss IPL and Laser therapy for skin rejuvenation. Although this is not the focus of our aesthetic courses, you will learn enough to determine whether you'd like to add it to your practice. By learning the general treatment goals and market, the course will help you determine if you have the demand for these services in your practice.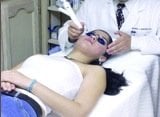 A complete business lecture will be presented so you can leave the program with the understanding of how to correctly price and package these services. WE have learned that performing the procedure correctly is essential but not sufficient to be successful financially in your practice.
The most common presentations you will see in a cosmetic practice involve correcting the surface of the skin as well as facial contouring. That's why we created a course that will address all areas that your patients will be asking about. The focus of this course is naturally about the more advanced techniques in Botulinum toxin and the various Dermal Fillers. After you have gained a certain level of skill and proficiency, its time to understand how to really shape and sculpt the patient's face. Some people refer to a treatment as the liquid face lift and this is an excellent procedure that can really have a profound effect on reducing 10 years off their look. It's important to understand that Botox is not only used to "go after" wrinkles. Both the Botox and Dermal Filler products should be considered as products that will sculpt and contour a patients face not just treat wrinkles.
Now included with your course material at all Empire programs:
Consent Forms
Empire's Resource and Vendor Guide
Before and After Photos for office use.
Objectives for Advanced Aesthetic Workshop
To learn the advanced techniques in Botox and Dermal Filler Injections. These include the following:
a. Advanced Botox Injections- To treat the "Gummy Smile, Sad Smile, Neck Injections for horizontal rhytids, grainey chin (mentalis muscle), Brow Lift, Lip injections for smokers lines,
b. Advanced Filler Injections- For Volume or Cheek augmentation (Volumlift), advanced techniques for Lip augmentation, Sunken eyes (tear trough), Jaw contouring, and the Fern Technique.

Skin Rejuvenation
a. Learn to correctly evaluate the skin to prescribe medical grade cosmeceuticals.
b. Learn which topicals treat the most common conditions of the aging and photodamaged skin.
c. Learn the business principles to integrate this retail segment.
d. IPL and Laser Therapy- Treatment guidelines with a focus on the most common/ most profitable procedures which can be added.

Business and Marketing
a. Learn exactly how compete in your specific geographic area
b. Learn how to price/package each of the new procedures.
c. Learn how to be competitive in your area
d. Learn how to use the internet to effectively attract new patients
e. Learn how to effectively advertise to your current database of patients.