Botox® Education Seminars
Neurotoxins | March 9, 2021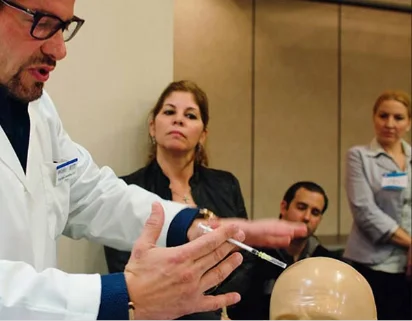 Neurotoxin Injections Training

Entry made by
Empire Medical Training
Neurotoxin injections is among the most popular cosmetic procedures. It is relatively easy to administer in outpatient settings. It is affordable and accessible for patients from a range of backgrounds and income levels. Its results are rapid and — literally — easy to see and appreciate.

Neurotoxins are increasingly common in non-cosmetic settings as well. Among others, it has been approved by the FDA for the treatment of chronic migraine, cervical dystonia, and overactive bladder: conditions that are either painful or adversely affect quality of life (or both).

It's no wonder that thousands of medical and aesthetic professionals have integrated Botox treatment into their practices. Botox is so widespread these days that it is easy to forget its origins as a much-feared, little-understood vector of potentially deadly foodborne illness.

Neurotoxins are derived from one of the planet's deadliest natural neurotoxins, the 'A' toxin of the Clostridium botulinum bacteria. Neurotoxins is safe for patients only when administered as indicated by properly trained medical professionals, such as physicians, registered nurses and others permitted to administer Botox. Used improperly, the medication can cause serious and possibly fatal complications.

Botox injection learning is a prerequisite to maintain this delicate balance between near-miraculous results and disastrous consequences. Any medical professional considering adding Botox to their practice should first enroll in and complete an accredited Botox course. Simply reading the medication's label and FDA literature, comprehensive as these resources are, is not adequate.
What to Expect From This Guide to learn Botox
This guide prepares medical professionals for Botox course. It covers:
The objectives of accredited Botox courses
The subjects and modules typically covered by Botox courses
An example of a comprehensive, high-quality accredited Botox course
Botox Course Objectives
Comprehensive Botox courses prepare clinicians to safely and effectively administer Botox to treat a wide range of medical and cosmetic conditions. These courses' objectives generally include most or all of the following:
Developing a treatment plan that fits the needs of the patient
Reviewing the indications and contraindications of Botox and its competitors
Evaluating treatment candidates to confirm that Botox treatment is safe and well-indicated
Learning the pharmacological differences between Botox and similar products (such as Xeomin® and Dysport®) derived from botulinum toxin
Learning the physiological effects and pharmacokinetics of botulinum toxin
Reconstructing and diluting Botox before treatment
Spotting and correcting poor outcomes, side effects, and complications
Understanding facial anatomy at the micro level
Learning advanced techniques for injecting Botox for a range of common procedures
Learning how and where to purchase Botox and similar products
Marketing Neurotoxin treatments and related services

Procedures Covered by Botox Courses
Botox courses are both practical and didactic. At the heart of any high-quality course is a thorough overview of common Botox procedures. Ideally, these include live demonstrations on actual volunteers and opportunities for course participants to practice injection techniques under close supervision, whether on volunteers themselves or on anatomically correct mannequins.

The list of FDA-approved Botox procedures grows by the year. These procedures fall into two distinct categories: cosmetic and therapeutic or medical. Some Botox courses focus only on one category. Others cover both types of procedures. When selecting a Botox course, clinicians should consider the types of procedures they plan to offer. For aesthetic practices, a cosmetic-only course may be a better fit than a course that covers both types of procedures.

Training courses focused on cosmetic Botox should cover:
Common procedures of the upper face: These include glabellar lines (vertical lines between the eyes, also known as "11" lines), horizontal forehead lines, crow's feet, and eyebrow lift.
Common procedures of the lower face: These include facial injections around the mouth, chin, and jawline, including "sad" or gummy smile, dimpled chin, bunny lines (nose wrinkling lines), vertical lip lines, and neck lines.
Training courses that also include medical or therapeutic Botox applications (or focus entirely on these applications) may cover:
Cervical dystonia: Cervical dystonia is a painful and disruptive condition characterized by involuntary head and neck movements. Botox injections in certain neck and shoulder muscles can temporarily reduce these movements.
Chronic migraine: Botox injected into the neck and back of the head is an effective treatment for pain associated with chronic migraine and the migraine process itself.
Bruxism and TMJ: Botox can be an effective treatment for TMJ issues and involuntary clenching of the jaw (bruxism).
Hyperhidrosis: Botox may be injected into the underarms, the soles of the feet, the palms of the hand, and other areas of the body to temporarily reduce excessive sweating (hyperhidrosis).
Urinary Incontinence: Botox injections into the muscles around the bladder can temporarily reduce symptoms associated with certain types of urinary incontinence (overactive bladder).
Limb spasticity: Botox is an effective treatment for certain types of upper and lower limb spasticity associated with certain underlying conditions in children and adults.
EMT's Botox Workshop for Licensed Medical Professionals
Empire Medical Training's Botox workshop is a great example of a comprehensive, high-quality continuing medical education course for medical professionals who'd like to integrate Botox into their practices. With more than two decades and hundreds of sessions completed, it's regarded as the gold standard in cosmetic Botox course for U.S.-based practitioners.
Prerequisites for EMT's Botox Workshop
EMT strongly recommends or requires attendees to complete its Advanced Facial Anatomy Cadaver Workshop for Aesthetics. This program provides detailed instruction in facial anatomy (beyond the review material included in the training workshop itself) and can help participants avoid poor treatment outcomes and attendant legal or malpractice issues.

This course is available as a live in-person workshop (offered at Rosalind Franklin University near Chicago and Columbia University in New York City) or as an on-demand video workshop for Empire Medical Training members. Both versions are approved for nine AMA PRA CME credits, and all graduates receive completion certificates at the course's conclusion.
What EMT's Botox course Tuition Covers (An Overview)
Empire Medical Training Botox treatment course tuition is an exceptional value. It covers:
Training on live patient volunteers: Participants are welcome to bring their own volunteer or request to be paired with one. There is no cost for any individual to receive any cosmetic treatments during the training session.
Neurotoxin products to inject one patient: This includes Botox and other neurotoxin cosmetic products to cover training procedures for one volunteer. Additional product is available for purchase at Empire's cost.
Additionally, all Empire Medical Training Botox treatment course attendees receive access to EMT's proprietary member web portal. This portal includes valuable resources for aesthetic practices:
All course materials, including presentations by physician trainers
Editable treatment protocols
Additional instruction videos on Botox treatment techniques and methods (and other cosmetic treatments)
Before and after photos with licensing rights for limited sharing
Access to EMT's practice marketing materials
Office documents and templates for aesthetic practices, including patient intake and consent forms
Caution: A Note About Non-Accredited Botox Workshops
t's true that EMT's Botox workshop is not the only option for aspiring Botox providers. However, unlike many imitators, it's a fully accredited Botox certification course that has earned the highest level of CME certification (AMA PRA Category 1 Credits.)

When evaluating Botox workshops, clinicians must pay mind to accreditation status and choose only accredited Botox course providers. Non-accredited training providers' instruction may not meet minimum regulatory standards set forth by state medical authorities and may leave clinicians operating in a gray area, potentially outside the strictures of the law. This could have adverse consequences for clinicians' practices in the long run.

Likewise, Botox courses that are not comprehensive in nature may result in substandard, incomplete instruction and raise the risk of clinicians offering substandard or potentially unsafe care. Clinicians should enroll only in those courses that offer hands-on instruction with live volunteers and include material designed and taught by leading aesthetic practitioners.