Dr. Stephen Cosentino, D.O. –
Medical Director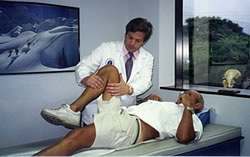 Dr Cosentino has been employed by Empire Medical Training since its inception in 1998 and continues to serve as President and Medical Director.
Before the start of Empire's programs, Dr Cosentino practiced Family Medicine for only one year before he met Dr Goldman, a local Physiatrist and Pain Specialist. Dr Goldman took an interest in Dr Cosentino and devoted his time and services to teach Dr Cosentino to perform various pain management injection procedures. Like many primary care physicians now, Dr Cosentino believed this was out of his specialty and that perhaps he should not learn these techniques.

It was not long after this introduction that Dr Cosentino began performing more and more of these techniques in his practice, in fact, Pain Management became the focus of his practice. By adding Pain Management as a new sub specialty he was able to help the vast majority of his patients with back pain and also created a new revenue stream like never before. Over the subsequent 6 years, Dr Cosentino performed over 20,000 injection procedures, became recognized in his area as an authority in pain management, and enjoyed substantial wealth and financial freedom while working less.



In 1998, after his first year in Pain Management, Dr Cosentino decided to share these concepts and techniques with other Primary Care Physicians. He envisioned an opportunity to help other physicians succeed in their practice
11 years ago when doctors only complained to themselves about decreased reimbursements and declining income, Dr Cosentino pioneered ways to add new procedures and services as well as business strategies to a practice to improve patient care and create massive revenue centers for the physician as well. Dr Cosentino was devoted to helping other professionals succeed.
Over the past 11 years Empire has created 27 different Aesthetic, Medical, Surgical and Business programs and trained over 30,000 physicians in these techniques. More recently, Dr Cosentino and staff created the Centers Excellence as a way to help assure physicians success in medicine and aesthetics.
Empire Medical Training has since grown into a full time staff of training physicians, two MBAs as well as a managerial staff and personnel assigned to continuing education and customer satisfaction. In addition, Empire's faculty of over 30 different physician specialists provide training and instruction at workshop events across the country. Empire Medical Training has since been acquired by a teaching organization and corporate entity; however, Dr. Cosentino has remained as part of the team and serves on the board as Medical Director and Faculty advisory. Unlike other companies and individuals offering weekend training programs with outdated or incomplete material, Empire Medical Training has the full time staff and resources not only to develop new programs but also to continuously update and improve upon them as well. This staff is committed to helping you succeed in your practice. Please feel free to call Dr Cosentino or any of our staff to freely discuss your practice goals or anything else. Thank you.
Stephen Cosentino, DO
Educational Background and Training
DO Nova Southeastern University
Internship 1 year Long Beach, Mount Sinai Medical Center New York City
Residency 4 years Long Beach , Mount Sinai Medical Center New York City
Board Certification in Family Medicine
Numerous Certifications and Memberships in Aesthetic Organizations