Terms & Conditions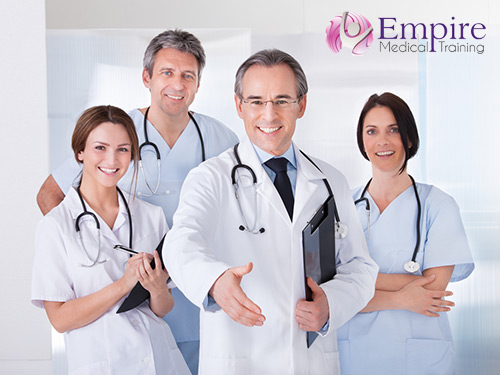 Empire Medical Training, Inc. ("Empire") is proud to offer our unmatched NO RISK Quality and Price Guarantee. Please read each sentence so there are no questions or confusions later on. We believe our policies are very favorable, we stand behind and guarantee our services, but it is important to understand what is and what is not provided if you are dissatisfied for any reason.
EMPIRE'S BETTER-THAN "GET YOUR MONEY BACK" POLICY ALLOWS YOU TO ATTEND EMPIRE'S PROGRAMS AT NO RISK.
Empire-Wow-Refund-Guarantee® states that if you attend your first course and do not believe it was the best program ever YOU WILL RECEIVE A COMPLETE REFUND AND UP TO $500 REIMBURSEMENT FOR YOUR TRAVEL! A FIRST IN THE INDUSTRY! All books and materials are yours to keep (excluding certifications and registered CME). For this refund to apply, you must attend your first workshop program (no refund for no shows or cancellations prior to the event), decide it was not the best program, and request a refund prior to the afternoon session by submitting the company refund form signed by you and company representative. Members must request for a refund during their first workshop or program. It is your responsibility to make sure that the company representative also signs the form and indicates that it was received prior to the afternoon session. Once you submit the refund form, you may keep the books and materials as our gift but may not return to the workshop. You must present proof of travel expenses for exact reimbursement, which shall not exceed $500. Your refund, and travel expenses (up to $500) will be promptly issued the following week upon our return. May not be combined with Empire-Wow-Satisfaction-Guarantee®
Empire-Wow-Satisfaction-Guarantee® alternatively, states that if you are not satisfied with a workshop or believe you need additional training, Empire will arrange for a personalized training program for you (1-Day preceptorship) with an instructor at one of our Centers of Excellence. ALL TRAINING FEES WILL BE PAID FOR BY EMPIRE ($6,000 value). May not be combined with Empire-Wow-Refund-Guarantee®
Empire-Wow-Price-Guarantee® states that Empire will refund you back the difference between what you paid for your training and a less expensive course. For this refund to apply, you must submit the company refund form to Empire within 30 days after registration. The cheaper program must have published prices, offer comparable training, and include all books, materials, certification, supplies, and medicines with their fees. Proof of this information (such as printed and website marketing materials of the cheaper program must be included with the company refund form.
There are absolutely no refunds for any product or service unless these terms and conditions are followed. As Empire incurs costs associated with each registration, there are NO refunds for "mind changing", no shows, or cancellations prior to the event. Our refund policy is extremely fair and eliminates all risk for you; however this process must be followed in return for the company to provide these no risk options for you. Realize that industry standard is to provide no refund, period. If a student is unable to attend, Tuition fees may be transferred to another activity date, or another individual, however, no refund will be issued. Although we guarantee and believe in the quality of our services, We strongly encourage individuals to be certain of their decision to register prior to taking such action. With over 50,000 physicians trained in 18 years, our objective is to continue to produce happy customers.
Should it be necessary for Empire Medical Training, Inc. to cancel a program, a full refund of the registration fee will be refunded. Empire Medical Training, Inc. shall not be responsible for monies registrants may have spent on non-refundable airline tickets, related travel costs, claims for lost wages, or hotel accommodations in the event a course is cancelled or sold out. We reserve the right to refuse registration from any attendee, or remove a disruptive attendee from an event, without refund. Seminar Locations, agendas, and course instructors are subject to change. The registration fee charge will appear on your credit card statement as Empire Medical Training, Inc. By paying the registration fee to Empire, you agree to the terms and conditions herein.
Choice of Law and Jurisdiction.  This Agreement shall be construed in accordance with the laws of the State of Florida, regardless of any conflict of law rules.  Client hereby submits to the exclusive jurisdiction of the federal and state courts located in the State of Florida . This Section shall survive termination or expiration of this Agreement.
Attorneys' Fees.  In the event that any action or proceeding (including, without limitation, any alternative dispute resolution mechanism agreed to by the parties) is brought in connection with this Agreement, the prevailing party shall be entitled to recover its costs and reasonable attorneys' fees.  This section shall survive termination or expiration of this Agreement.
Security Measures:  All Classrooms and Registration Desks are monitored using Audio and Video Recording. These security measures are intended, in part, to monitor the hands on component of all training and to assist Personnel. Attendees are responsible for their own possessions and Empire is not responsible for any losses incurred by the attendee. 
Seminar Rules and Safety: Many programs involve hands on Training on live patients. As professionals our first objective is to do "no harm" to any person. As such, Empire has implemented strict rules regarding the handling of needles, sharps, biohazards, and the protocols involving patient care. These rules will be announced prior to each hands on session in addition to a video presentation that each attendee is required to view prior to their arrival at the seminars. Attendees may access this video after registration on the "Members' Portal". Non Members will receive a link to access same.
If an attendee is acting in a manner that may cause detriment to others or is deemed to be disruptive or not following the instructors' guidelines, this individual may be asked to leave the program without refund. The designated instructor and his support team will serve as the final authority. This is a rare event but, our first objective is for the care of others. IF these guidelines seem unreasonable or extreme, we respectfully ask that you think twice before registering for any hands on course. We thank you in advance for your cooperation and attention to the seriousness of our training.
Video and Photography during all Events: All seminar workshops and events are photographed and recorded for various reasons including, but not limited to, providing educational videos to attendees, for video testimonials, for marketing purposes, and for business purposes related to education. All participants, guests, exhibitors, and visitors to the program (herein referred to as "individual") understand that they may be photographed or videotaped for broadcast or exhibition in any medium, and use the edited or finished product for any legitimate use. That individual, upon entering such program, gives Empire Medical Training and its related constituents the unqualified right to take and use such pictures and/or recordings and gives perpetual right to use your likeness, image, photo (herein referred to as "photo") without compensation or payment or any type. That individual waives and forever releases and discharges Empire Medical Training from and against any and all claims or actions arising from the use of your photo.
Important Disclaimer: Enrollment in a training workshop does not guarantee that the attendee/cardholder is competent to perform a procedure and the attendee/cardholder will hold Empire and American Academy of Procedural Medicine and their respective directors, officers, employees, agents and affiliates (collectively, "Indemnities") harmless from any losses, liabilities, negative results or outcomes whatsoever that a patient may suffer from an attendee's action or procedure. Furthermore, it is the responsibility of the attendee/cardholder to understand and adhere to all the laws and guidelines of the state for which they practice medicine. Indemnitees may not in any way be blamed or held liable for violations committed by an attendee. Attendees must also understand the scope of what their professional license allows or disallows in regards to the newly learned procedure.
Empire-Wow-Refund-Guarantee® and all trademarks, whether expressly written or implied, are strictly protected by copyright and trademark infringement laws.