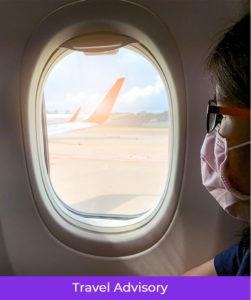 We are closely monitoring the evolving situation related to the coronavirus (COVID-19) in order to evaluate the outbreak's impact on our Empire members, faculty and staff. The health and safety of the Empire family is of the utmost importance to us.
We recognize that some of our Empire members may travel locally and sometimes further to attend our many workshops. We know that in this time of the COVID-19 public health emergency, you may be rethinking your plans. We encourage you to make informed decisions and know that we are here if your plans do need to be changed.
To best meet our members' needs, for those that choose to postpone signing up for "live" attendance workshops, we have created new options for attending virtual workshops. See https://www.empiremedicaltraining.com/virtual-training/ to learn more.
In addition, we feel it is important for you to review the latest travel advisory information so you can make the best decision that meets with your comfort level.
Here is some important information:
The Centers for Disease Control provides recommendations on postponing or canceling travel. These are called travel notices and are based on assessment of the potential health risks involved with traveling to a certain area. A list of destinations with travel notices is available at https://www.cdc.gov/coronavirus/2019-ncov/travelers/index.html.

Warning Level 3: CDC recommends travelers avoid all nonessential travel to destinations with level 3 travel notices because of the risk of getting COVID-19.
Alert Level 2: Because COVID-19 can be more serious in older adults and those with chronic medical conditions, people in these groups should talk to a healthcare provider and consider postponing travel to destinations with level 2 travel notices.
Watch Level 1: CDC does not recommend canceling or postponing travel to destinations with level 1 travel notices because the risk of COVID-19 is thought to be low. If you travel, take the following routine precautions:
• Avoid contact with sick people.
• Avoid touching your eyes, nose, or mouth with unwashed hands.
• Clean your hands often by washing them with soap and water for at least 20 seconds or using an alcohol-based hand sanitizer that contains 60%–95% alcohol. Soap and water should be used if hands are visibly dirty.
It is especially important to clean hands after going to the bathroom; before eating; and after coughing, sneezing or blowing your nose.