What Is Juvederm®
DERMAL FILLER | May 11, 2021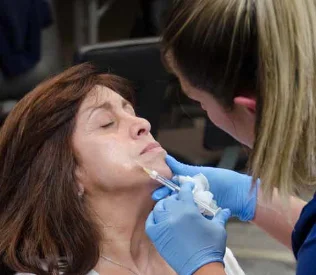 What Is Juvederm®

Entry made by
Empire Medical Training
Juvederm® is a family of injectable dermal fillers used to treat a variety of cosmetic complaints of the lips and face, including but not limited to lip lines, nasolabial folds, and cheek volume loss.

It was developed and is presently manufactured by Allergan, a California-based pharmaceutical company (now part of Abbvie) responsible for some of the most popular nonsurgical cosmetic treatments in use today — including Botox® and Kybella®.

Because Juvederm does not require surgical intervention and is straightforward for licensed, trained cosmetic practitioners to inject in outpatient settings, it is widely used for restoring volume and reducing lines and wrinkles in patients without known contraindications.

What follows is a general overview of Juvederm's pharmacology and formulations, clinical history, present-day uses, and safety and risk profiles. It is not a substitute for an accredited dermal filler training program and should not be used as the basis for clinical decisions.
Juvederm: What It Is and What It Does
Juvederm is a temporary dermal filler that typically produces noticeable clinical results for 6 to 18 months following treatment, depending on the formulation, dosing, condition being treated, and other factors specific to the patient.

The active ingredient in all Juvederm formulations is hyaluronic acid, a naturally occurring compound found in human skin. Juvederm formulations also include small amounts of lidocaine, a local numbing agent, as well as bacterial proteins and various inert ingredients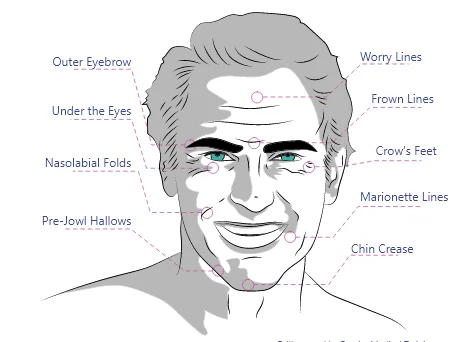 Juvederm Uses and Indications
Juvederm is used for nonsurgical treatment of cosmetic issues of the lips, cheek area, and other areas of the face. Its principal indications and off-label uses include:
Lip augmentation: Juvederm is a popular temporary treatment for volume loss or absence in the lips and areas immediately adjacent to the lips.


Facial wrinkles: Juvederm is often used to lessen facial wrinkles and folds and to add volume in creased areas.


Nasolabial folds: These features stretch from the lower sides of the nose to the peri-mouth area and are among the most common types of facial folds treated with Juvederm.


Volume loss in the cheeks and jowls: Juvederm is used to temporarily add volume to the mid-face (cheeks and jowls) where age-related or structural volume loss persists.


Smile lines and marionette lines: Juvederm is commonly used to lessen marionette lines (downward-oriented lines beginning at the corners of the mouth and extending across the chin) and smile lines.


Vertical lip lines: Juvederm can also lessen vertical lip lines (smoker's lines).
The Juvederm Dermal Filler Family (Types of Juvederm)
Juvederm is actually a family or "umbrella" of filler formulations, each with a specific set of indications and commonly accepted uses.
Juvederm Ultra: Juvederm Ultra is a popular formulation for patients seeking fuller, more natural-looking lips (lip augmentation). Its effects typically last 6 to 12 months but may persist for longer with follow-ups at 6 to 9 months.


Juvederm Ultra Plus XC: Juvederm Ultra Plus XC is most often used to address marionette lines and nasolabial folds, and occasionally to treat other deep creases or wrinkles of the face. It is a more effective volumizing agent than Juvederm Ultra and may last for longer between touch-ups.


Juvederm Voluma XC: Juvederm Voluma XC is a longer-lasting formulation (up to 18 months) that is most often used to remedy age-related volume loss in the mid-face.


Juvederm Vollure XC: Like Juvederm Ultra Plus XC, Juvederm Vollure XC is most often used to treat nasolabial folds. It's also useful for the treatment of vertical lip lines. Its effects last up to 18 months in some patients.


Juvederm Volbella XC: Juvederm Volbella is used for subtle lip enhancements, including the lessening of lip lines and volumnization.
History of Juvederm: Development and Approval
Juvederm was developed by Allergan, then an independent company, following decades of research into hyaluronic acid (HA) beginning in the 1970s. It has been approved for use in the United States since 2006, when the Food and Drug Administration first greenlighted it for the treatment of facial wrinkles and folds.

In 2010, the FDA approved an updated formulation of Juvederm containing lidocaine, reducing the need for a separate local anesthetic injection during treatment. Three years later, the FDA approved Juvederm Voluma XC to treat age-related cheek volume loss. More recent approvals include:
Juvederm Ultra XC for lip augmentation in 2015
Juvederm Volbella XC for use in the lips and peri-mouth area in 2016
Juvederm Vollure XC for facial wrinkles and folds in 2017
Juvederm Voluma XC for additional uses in the mid-face in 2019
How Juvederm Works: Treatment and Risks
Juvederm injections are administered in outpatient settings during procedures that typically last no longer than 60 minutes. Its active ingredient, hyaluronic acid (HA), is a naturally occurring collagen stimulant that encourages the formation of additional connective material in the lower layers of the skin. Over a period of weeks to months, HA's action increases volume in the treated area — lending a plump, lifelike, and well-hydrated appearance that seems to defy age.

Prior to treatment, Juvederm clinicians mark injection areas with washable marker to ensure accurate placement and dosing. Each injection is accompanied by a gentle massage of the treatment area that more evenly distributes the active ingredient and reduces the risk of lumps or swelling.
Juvederm Contraindications
Juvederm is not suitable for all patients seeking temporary correction of age-related cosmetic complaints. Juvederm's manufacturer advises against Juvederm treatment in any circumstances for patients with:
A documented history of "multiple severe allergies"
A history of severe allergic reactions (anaphylaxis)
Known allergy to lidocaine
Known allergy to the Gram-positive bacterial proteins found in Juvederm formulations
Additionally, patients currently taking blood-thinning medication may wish to delay or forgo Juvederm treatment. This includes patients taking common over-the-counter medications that can prolong bleeding, including aspirin and ibuprofen.
Finally, Juvederm has not been studied in the following groups of patients:
Women who are pregnant or breastfeeding
People with a history of pigmentation disorders
People with a history of excessive scarring
Patients with excess loose skin in and around treatment areas
Patients who experience skin injury or have preexisting skin injury near treatment areas
Possible Juvederm Side Effects
Juvederm treatment is noninvasive and nonsurgical. As such, it is considered low-risk in comparison to cosmetic surgical procedures and permanent implants.

However, even the most routine and popular cosmetic procedures are not entirely without risk. Juvederm face fillers' side effects are mostly mild, temporary, and confined to the area around the injection site:
Redness or tenderness at the injection site
Itching at the injection site
Temporary swelling or lumps around the injection area
Temporary bleeding near the injection site
Minor pain near the injection site
These side effects generally resolve on their own within a period of days. In rare cases, they may persist for several weeks after treatment without worsening.
More serious Juvederm side effects and complications are rare and tend to be associated with screening or treatment errors, such as ignoring clear patient contraindications or injecting Juvederm into blood vessels:
Symptoms of a serious allergic reaction, including breathing difficulties and severe swelling of the face or neck
Permanent scarring around the injection site
Temporary or permanent loss of vision
Temporary or permanent vision changes
Prolonged bleeding at the injection site
Blood clots
Stroke
All Juvederm patients, even those without apparent contraindications, must understand the risks and possible side effects of treatment before receiving their first injection. Clinicians should advise patients to contact them with questions about mild side effects and to seek immediate medical attention should more serious reactions arise.