Hyaluronic Acid Injections Face
DERMAL FILLER | May 17, 2021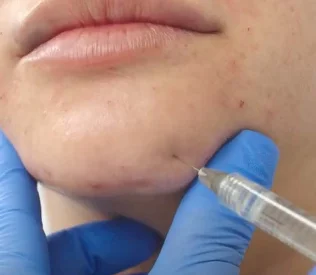 Hyaluronic Acid
Injections in Face

Entry made by
Empire Medical Training
According to data collected by the American Society of Plastic Surgeons, soft tissue filler treatment is the second most common type of minimally invasive cosmetic procedure performed in the United States, second only to treatments with botulinum toxin type A (chiefly Botox®).

Soft tissue dermal fillers temporarily add volume and soften lines and wrinkles on the face and neck, producing natural, youthful results for patients of all ages.

Of several types of FDA-approved dermal fillers available to U.S. patients today, hyaluronic acid is regarded as the leading noninvasive alternative to plastic surgery. Hyaluronic acid injections to the face are used to treat marionette lines, lining of the nasolabial folds, smokers' lines and other fine lip lines, and volume loss in the lips.

Although generally regarded as safe, hyaluronic acid fillers (HA fillers) are associated with side effects that can, in rare cases, prove serious. Certain patients are not good candidates for HA fillers, and all prospective patients should consult with the board-certified dermatologist or plastic surgeon who will perform the procedure to identify potential contraindications.
Hyaluronic Acid Injections for the Face: The Basics
This is a detailed overview of hyaluronic acid filler treatments for the face. In the following sections, we'll cover:
How hyaluronic acid injections to the face actually work
Alternatives to hyaluronic acid injections
Popular brands and formulations of HA fillers and their respective indications
What to expect from HA filler treatment, including consultation and treatment procedures, contraindications, potential side effects, and results and their duration
First, let's examine the basic pharmacology of hyaluronic acid fillers.
How Hyaluronic Acid Injections Work
Hyaluronic acid is a biological compound that occurs naturally in the human dermis (skin). When used as an injected filler in targeted fashion, it temporarily stimulates the body's production of natural collagen to add volume to the skin and smooth or erase age-related lines and wrinkles. Hyaluronic acid works best to treat minor to moderate lines and volume loss around the nose, lips, chin, and cheeks.

Over time, injected hyaluronic acid breaks down in the body, but the collagen it leaves behind remains for longer periods of time. Eventually, however, the collagen dissipates as well and the results fade, returning the patient more or less to a pre-treatment state. Touch-up procedures may prolong results for months after they'd normally disappear. There is some evidence that certain patients may require lower filler doses to achieve similar results in follow-up procedures, but more study is needed to conclusively determine that this is the case.
Other Types of Face Fillers: Alternatives to Hyaluronic Acid Injections
HA filler is the most popular type of dermal filler for face and lip volume enhancements, but it's not the only filler on the market. The American Board of Cosmetic Surgery details other filler options that produce temporary or indefinite results for patients seeking to combat age-related cosmetic issues or otherwise enhance their appearance:
Calcium hydroxylapatite (CaHA): CaHA is another naturally occurring filler derived from a compound found in human bones. It's a viscous, relatively long-lasting substance that directly adds volume to treated areas while also stimulating collagen production to prolong results. CaHA is appropriate for treatment of deep lines and wrinkles that may prove resistant to HA filler treatment.
Polymethylmethacrylate (PMMA): PMMA is a "biocompatible" synthetic injection that contains tiny amounts of collagen suspended in microspheres. These globules remain beneath the surface of the skin indefinitely, adding durable volume to treated areas.
Poly-L-lactic Acid: Like hyaluronic acid, poly-L-lactic acid is a collagen stimulator that reduces the appearance of wrinkles and lines over time. Unlike HA, it's a biocompatible synthetic formulation that delivers more durable (though not indefinite) results.
Collagen Injections vs. Dermal Fillers
Restylane® and Juvederm®: Popular Hyaluronic Acid Injections for Face Treatments Two manufacturers dominate the production of HA fillers in the United States: Allergan Aesthetics (Juvederm®) and Galderma (Restylane®). Both come in multiple formulations that have collectively received FDA approval to treat a variety of facial cosmetic issues. These formulations include:
Juvederm XC
Juvederm VOLUMA
Juvederm VOLBELLA
Juvederm VOLLURE
Restylane (original)
Restylane Silk
Restylane Refyne
7 Restylane Defyne
Restylane Lyft
concerns, such as marionette lines, thin lips, or nasolabial folds. Most contain small amounts of lidocaine to ensure patient comfort during and after treatment.
What to Expect from Hyaluronic Acid Injections for the Face
What can the typical patient expect from hyaluronic acid filler treatment?

Every patient-provider relationship begins with an initial consultation and treatment planning session. Treatments themselves usually take 30 to 60 minutes, possibly with one or more follow-ups to check progress and fine-tune results. Patients may safely repeat treatment after results fade if they choose, provided no known contraindications have developed in the intervening period and no serious side effects occurred during previous treatments.
Initial Consultation and Treatment Planning
The initial patient consultation has two important objectives: to work out a treatment plan that addresses the patient's concerns and identify possible contraindications for HA filler treatment. Such contraindications may include:
Current infection in the proposed treatment area
Current herpes infection (facial or oral)
Allergy to any component of injectable HA fillers, including lidocaine
Current pregnancy or breastfeeding
Known blood-clotting issues
Uncontrolled diabetes
Immunosuppressed condition, including that caused by immunosuppressive medications
Duration of Results
One of the most common questions prospective HA filler patients ask is how long face fillers last. While this depends on the formulation, fillers generally last from 6 to 18 months without touch-ups, with a median duration of 12 months. Touch-up injections may prolong results beyond 18 months.

Patients should begin to see results within days of treatment, although temporary side effects like swelling or bruising around the injection site may obscure them at the outset. Patients concerned that their treatments have not had the desired effect should schedule a follow-up consultation with their provider to evaluate their case and discuss options.
Cautions and Possible Side Effects s
Patients with significant known contraindications should not proceed with HA filler treatment. However, even patients without known contraindications may experience side effects and complications that can interfere with results, produce temporary discomfort or cosmetic problems, and in rare cases have serious and long-lasting health consequences.

The most common side effects of hyaluronic acid injections for the face are usually mild to moderate and resolve on their own over a period of a few days to a few weeks:
Swelling at the injection site
Redness or bruising around the injection site
Bleeding from the injection wound
Lumps and bumps around the treatment area
Rare but serious side effects are often attributable to improper injection techniques and other treatment errors by inexperienced or improperly trained medical personnel:
Inflammatory or allergic reactions at the injection site
Systemic allergic reaction (anaphylaxis)
Persistent numbness at the injection site
Bluish discoloration at the injection site
Skin infection or necrosis (skin cell death)
Blood clots and stroke (often caused by injection into a blood vessel)
Scarring at the injection site
Temporary or permanent blindness
To reduce their risk, patients should always seek treatment from licensed, board-certified professionals who have completed accredited dermal filler training coursework.