All About Dermal Fillers
DERMAL FILLER | May 28, 2021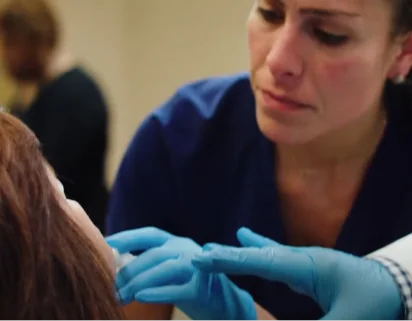 What Are
Dermal Fillers?

Entry made by
Empire Medical Training
According to the American Society of Plastic Surgeons, the United States' most popular minimally invasive cosmetic procedure is Botox® injection.

The second most popular? Dermal filler injection.

Injectable dermal fillers offer a relatively safe and minimally invasive alternative to plastic surgery. Providers and patients appreciate their effectiveness in reducing noticeable signs of aging in the face and neck, such as lines and wrinkles. Certain fillers are FDA approved to treat more specific skin conditions not directly related to age, such as acne scars.

There's a lot to know about dermal fillers. This guide covers the various types of temporary and permanent dermal fillers, their indications, how long they last, how they stand up to the most popular alternative (Botox), and the potential side effects and complications that can be mitigated with careful patient screening and proper injection technique.

What Are Dermal Fillers?
Dermal fillers, or soft tissue fillers, are injectable treatments indicated for the mitigation or correction of a variety of age- and non-age-related cosmetic complaints:
Nasolabial folds, also known as smile lines (lines between the nose and corners of the mouth).
Marionette lines (lines at the sides of the mouth).
Chin lines.
Frown lines.
Sunken or hollow cheeks
Thin or uneven lips
Smoker's lines between the upper lip and nose
Certain types of facial scars, including acne scars
Not all filler types are indicated to treat or correct all of these complaints. However, many practitioners responsibly and successfully use fillers "off-label" (for indications not approved by the FDA) to treat specific types of facial lines and wrinkles.
Types of Dermal Fillers and Indications
Choosing the correct type of filler is best done in consultation with a trained, board-certified medical professional or aesthetician. The distinction between temporary injectable dermal fillers and permanent dermal fillers that may involve fat or skin grafting is particularly important for patients (and providers) to understand.

These are the most widely used types of dermal fillers in North America.
Hyaluronic Acid (HA). Hyaluronic acid filler is the most popular type of temporary dermal filler on the North American market. Used to treat a variety of fine cosmetic complaints of the face and lips, HA is a naturally occurring substance that temporarily plumpens and hydrates skin to increase volume. HA treatments typically last 6 to 18 months, depending on dosing, location, condition, and patient-specific factors.


Calcium Hydroxylapatite (CaHa). Calcium hydroxylapatite (CaHa) is another naturally occurring substance that stimulates collagen production around the injection site to reduce the appearance of deep lines, wrinkles, and scars. Its effects can last longer than hyaluronic acid's: 12 to 24 months is typical for most patients.


Poly L Lactic Acid. Poly-l-lactic acid is a synthetic collagen stimulator that is also used in dissolvable stitches. Although it is synthetic, it is biocompatible, meaning it rarely reacts with surrounding tissue and is not a significant allergy risk. Poly-l-lactic acid results typically last longer than HA or CaHa — upwards of two years for many patients — and the treatment is favored for deep wrinkles that don't respond as well to shorter-acting treatments.


Polymethylmethacrylate (PMMA). PMMA is a synthetic biocompatible substance contained within tiny "microspheres" that sit in a stable formation beneath the skin. PMMA formulations may also contain collagen, a naturally occurring substance. Because PMMA microspheres do not degrade in the body, PMMA fillers are considered permanent and must be removed if the patient is no longer satisfied with the results.
Popular Dermal Filler Brands
The U.S. market for dermal fillers is dominated by a handful of pharmaceutical companies. The American Board of Cosmetic Surgery has a comprehensive list of the most widely used brands and their manufacturers:
Juvederm®: Juvederm is a family of hyaluronic acid fillers manufactured by Allergan. Its formulations include Juvederm VOLUMA, VOLBELLA, and VOLLURE, each of which is indicated or recommended for specific cosmetic complaints.


Restylane®: Restylane is Juvederm's principal HA competitor. Manufactured by Galderma, its formulations include Restylane original, Restylane Lyft, Restylane Silk, Restylane Refyne, and Restylane Defyne. Like Juvederm, each formulation has a specific set of procedural indications.


Belotero®: Belotero (marketed as Belotero Balance) is a lesser-known HA filler manufactured by Merz Pharmaceuticals. It's specifically indicated for the treatment of moderate to severe nasolabial folds.


Radiesse®: Radiesse is a CaHa filler also manufactured by Merz Pharmaceuticals. It has a wide set of facial indications, including moderate to severe nasolabial folds, and is also used to reduce lining and wasting in the hands.


Sculptra®: Sculptra is the most widely used poly-l-lactic acid filler indicated for the treatment of certain types of deeper facial lines and wrinkles. It is manufactured by Galderma and has been approved for use in Europe since the late 1990s.


Bellafill® (ArteFill): Bellafill, formerly known as ArteFill, is a permanent PMMA filler indicated for the treatment of severe acne scars and nasolabial folds, among other cosmetic complaints. It is manufactured by Suneva Medical and rebranded to its current name in 2014.


Temporary vs. Permanent Dermal Fillers
The distinction between temporary dermal fillers like hyaluronic acid and functionally permanent facial fillers like PMMA is critical for patients and providers to understand. While the effects of permanent facial fillers are generally regarded as reversible, this requires follow-up procedural work at considerable cost and discomfort to the patient.

The only widely used non-autologous filler (that is, fillers not wholly composed of biological matter obtained from the same individual) that is considered permanent is PMMA. While permanent, silicone-based implants such as Permalip (a popular type of permanent lip implant) are not usually considered "dermal fillers."

In consultation with their providers, patients should carefully consider the implications of permanent fillers. Many patients choose to begin cosmetic treatment with temporary fillers, such as HA or CaHa, and proceed to permanent fillers only if those fillers' results prove unsatisfactory or they tire of periodic follow-up visits to maintain temporary fillers' results.
Dermal Fillers vs. Botox
Among minimally invasive injectable treatments for cosmetic complaints of the face and neck, dermal fillers are second only to treatments derived from botulinum toxin, notably Botox.

Both Botox and temporary dermal fillers require follow-up treatments to maintain results. Generally, Botox results last for shorter periods of time and may be more noticeable in areas of finer lining, such as crow's feet. And these two types of treatments work very differently: Botox temporarily paralyzes the tiny muscles around the injection site to smooth wrinkles and lines, while fillers temporarily add volume by hydrating the skin or stimulating collagen production.
Dermal Filler Risks and Possible Side Effects
Although injectable dermal fillers are widely regarded as safe and do not require invasive surgery, they do present some risk of side effects and complications.

Severe complications, such as stroke or clotting events after injection into a blood vessel, can be reduced or eliminated by providers with proper dermal filler training and thorough pre-treatment testing to ascertain the potential for serious allergic reactions.

Other side effects that may occur during and after filler treatment include:
Itching, redness, or bruising at the injection site
Mild swelling or tenderness around the injection site
Injection site infection
Skin discoloration (often "bluing") around the injection site
Necrosis (skin death)
Prolonged bleeding from the injection site
Skin lumps (granules) around the injection site
Some of these side effects may necessitate medical treatment. In any case, patients should always seek medical advice (and treatment itself) from a board-certified provider prior to a filler procedure.