Botox® Courses
DERMAL FILLER | April 2, 2021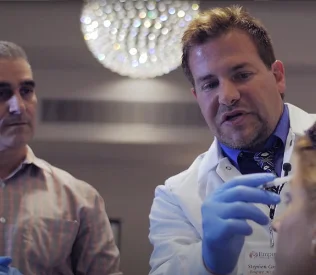 Botox® Courses

Entry made by
Empire Medical Training
Botox® and common competitors like Xeomin® and Dysport® are popular additions to aesthetic and therapeutic medical practices because they are relatively easy to store and administer in outpatient settings. Facial injectables derived from the botulinum toxin are also relatively easy for trained medical professionals to work with, and the fact that they typically produce visible, durable results within a few days of injection is a strong selling point for prospective patients.

Botox's comparatively low degree of difficulty should not be interpreted as a contraindication for thorough training. Physicians, dentists, nurses, and other board-certified healthcare professionals must complete accredited Botox courses that cover the entire universe of topics clinicians need to know to inject Botox safely and competently: facial anatomy, treatment planning, patient intake and evaluation, basic and advanced injection procedures, and safe Botox storage and handling. After all, Botox's active ingredient is one of the deadliest naturally occurring neurotoxins known to science — one that is more than capable of causing serious and possibly fatal complications in patients.
Accredited Botox Courses: What to Expect
A basic Botox training course is typically divided into two parts: didactic (classroom) instruction covering prerequisites like facial anatomy and general injection procedure as well as practice-based information such as Botox pricing, and hands-on (practical) instruction featuring live volunteers and anatomically correct mannequins or busts. Upon successful completion of the course, trainees should have all the knowledge needed to incorporate Botox into their practices and administer basic cosmetic and therapeutic Botox injections.

Clinicians evaluating their options should look for Botox courses that cover the following topics:
Botulinum toxin's physiological effects and pharmacokinetics
Patient intake and evaluation, including initial screening and identification of potential contraindications for Botox, Xeomin, Dysport, Juveau, and other botulinum toxin medications
The pharmacological differences between Botox and common Botox competitors
Developing customized and medically appropriate treatment plans for individual candidates
Reconstituting and diluting Botox before injection
Identifying and correcting complications, side effects, and suboptimal treatment outcomes
Detailed review of micro-level oral and maxillofacial anatomy
Purchasing Botox and Botox competitors for aesthetic and medical practices
Pricing and marketing Botox treatments and related services, including dermal filler injections and other FDA-approved cosmetic procedures
Procedures Covered by Accredited Botox Courses
An accredited Botox certification course should provide practical instruction in a number of common Botox treatment procedures, with detailed guidance on injection techniques and processes for each. Advanced Botox courses cover advanced injection techniques both for these Botox procedures and less common or more sophisticated treatments, and may also cover other types of cosmetic injection training (such as dermal filler injections).

Top-rated Botox courses mix live demonstrations featuring human volunteers (either recruited by the training provider or brought by trainees) with demonstrations on life-size, anatomically correct busts or dummies.

To manage their own time and resources effectively, clinicians should look for training courses that emphasize the types of procedures and services (whether Botox or other cosmetic treatments) that they plan to add to their practices. One of the first junctures on this decision tree concerns the distinction between cosmetic and therapeutic Botox. Aesthetic medicine practitioners generally provide cosmetic Botox treatments only, whereas noncosmetic specialists may offer therapeutic Botox only.

Some Botox training courses focus mainly or entirely on cosmetic Botox treatments like:
Glabellar lines
Horizontal forehead lines
Gummy smile or "sad" smile
Marionette lines
Eyebrow lift
Crows' feet
Vertical lip lines (smokers' lines)
Bunny lines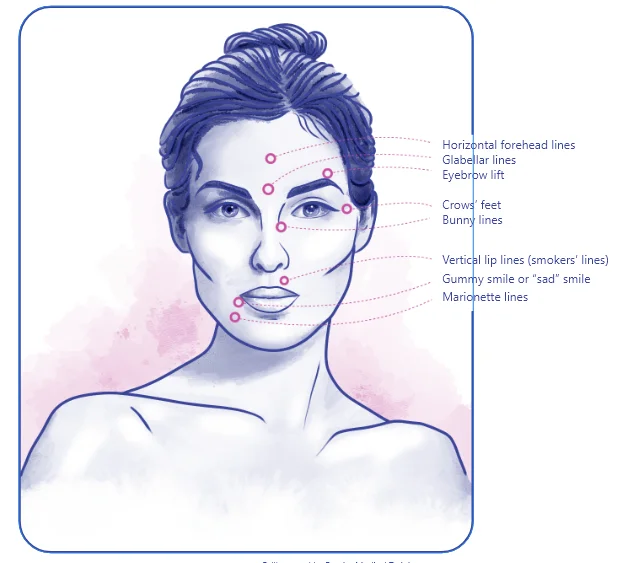 Cosmetic Botox courses may also cover cosmetic procedures of the head and neck, such as platysmal bands (neck lines). However, these types of treatments, as well as advanced injection techniques for facial cosmetic procedures, are often reserved for advanced (second- and third-tier) courses that require documented procedural experience.

Therapeutic practitioners should look for Botox courses that cover:
Cervical dystonia
Chronic migraine
Bruxism (involuntary jaw clenching) and TMJ disorders
Hyperhidrosis (excessive sweating of the palms, feet, and underarms)
Limb spasticity in minors and adults
Urinary incontinence and other bladder conditions indicated for Botox treatment
Botox Course Example: Empire Medical Training's Botox Workshop for Healthcare Professionals
Empire Medical Training's Botox training workshop is a prime example of a fully accredited continuing medical education course for clinicians seeking Botox training. It is open to all board certified (or otherwise licensed) clinicians cleared by local medical authorities to perform Botox treatments in their states of practice.
Prerequisites for Empire Medical Training's Botox Course Fillers
EMT's basic Botox training course requires or strongly recommends that participants collect one prerequisite CME certification before attending: the Advanced Facial Anatomy Cadaver Workshop for Aesthetics, a comprehensive facial anatomy class designed to help Botox injectors achieve optimal treatment outcomes and avoid complications or side effects.The Advanced Facial Anatomy Cadaver Workshop for Aesthetics is run by Empire Medical Training and staffed by board certified trainers with years of experience in their fields. It is available as a live, in-person class at Rosalind Franklin University (near Chicago) and Columbia University (in New York City) or as a video workshop available to Empire Medical Training members on demand. Both versions of the workshop are eligible for nine AMA PRA CME credits.
What EMT's Botox Course Tuition Covers
The Empire Medical Training Botox course provides participants with the following resources and instruction, some of which are not available elsewhere:
Training on live patient volunteers (will not financially responsible for any cosmetic treatments received)
Enough Botox or other botulinum toxin to inject one volunteer patient
Additional product available for purchase at EMT's cost
Access to EMT's proprietary member web portal
Workshop presentations and all other course materials available online, on-demand
Editable treatment protocols for clinic use
Botox treatment instruction videos covering techniques and methods not included in the course itself
Instruction videos for other common cosmetic treatments, including dermal fillers
Before and after treatment photos with licensing rights from EMT
Practice marketing materials from EMT with limited use license
Patient intake, consent forms, and other documents for use in aesthetic practices
Beware of Non-Accredited Botox Courses
Accreditation is a make-or-break factor for clinicians evaluating Botox training courses. Non-accredited training providers do not offer the same rigorous, comprehensive instruction as accredited alternatives and may not meet minimum regulatory standards imposed by state medical authorities, leaving clinicians operating in a legal gray area and increasing the risk of suboptimal outcomes, complications, and malpractice claims as a result. To reduce the risk of adverse consequences for their practices, finances, and professional reputations, clinicians seeking Botox and dermal filler training should avoid providers without current accreditation.