Thread Lift Training
We Provide the Most Comprehensive PDO Thread Lift Training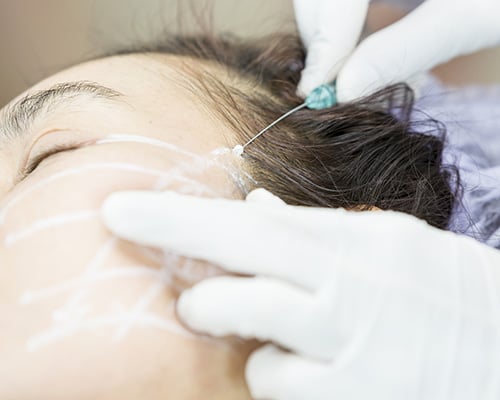 Empire Medical Training is the authorized training entity for the FDA Cleared Miracu™ family of smooth PDO thread suture.  This hands-on PDO thread lift training will allow you to acquire and utilize this latest approved technologies immediately after completion of the course. Average price per procedure is $300-$2,000 or dependent upon area and complexity of case with little material cost associated with this non-invasive surgical procedure.
Miracu™ PDO sutures are the latest and revolutionary treatment for skin tightening and lifting as well as V-shaping the face. The threads are made of PDO (polydioxanone) material which is similar to the threads used in surgical stitches, PDO sutures will continuously stimulate collagen synthesis under skin. When inserted into the skin, the PDO threads act as a "scaffold" for the skin which helps to "hold" the skin against the effects of gravity and aging. The "mesh" of threads will also shape the face by lifting and supporting sagging structures and the thread sutures are absorbable in 4-6 months leaving nothing behind but the skin structure created which continues to hold for another 8-12 months.  Other advantages of the Empire Medical Training Thread Lift Training and Miracu™ PDO sutures include:
No incision, No tieback of sutures and no downtime to patient.
Very safe, only 30 minutes of local anesthesia is needed if at all.
No edema, No bruising, No scarring & quick recovery time.
Semi-permanent effect, New PDO sutures are absorbable and patient will realize immediate improvement of facial wrinkles, neck lines or other body areas.
Neocollagenesis and retraction of skin tissues where placed.
Restrains the skin and facial wrinkles from aging process and can last up to 12-16 months.
PDO threads can be reversed (RF & IPL Light Energies)
PDO Thread Face Lifting has been regarded by Plastic Surgeons as a significant advancement in Facial Rejuvenation and the Non Surgical Facelift because of the extraordinary results achieved from the technology involved. The technique itself is ideal for the aesthetic practitioner (Physician, Nurse Practitioner, PA, check applicable state laws) because of the relative simplicity in learning the technique, the excellent safety profile, and the significant revenue associated with the technique itself.
Ideal Patient Benefits: Thread Face Lifting is suited for patients in their 30's to 50's who are experiencing the traditional signs of aging such as sagging in their face and loss of volume. Thread Lifting can create a dramatic improvement to any area of the face which needs a lifting effect such as the cheeks, the nasolabial folds, forehead, double chin, marionette lines, the lower eye areas, the jowl area along the chin line, as well as for the notable chicken neck for sagging skin around the neck. The desirable effects take place from immediate to over the subsequent 2- 3 weeks. Additional improvement will occur as a result of the enhanced effects on facial collagen. The results can last up to 2-3 years.
Benefits to Training : Learn a new, highly profitable, non-surgical technique that creates dramatic results for your aesthetic patient and be able to charge a premium. Most medical spas and aesthetic offices do NOT have the skill set to perform the technique giving you an opportunity to differentiate yourself. PDO Thread Lift Face Lifting typically costs upwards of $600 - $1,200 per area and may be used in conjunction with Botox and Dermal Fillers to further enhance the appearance and, enable you to charge more.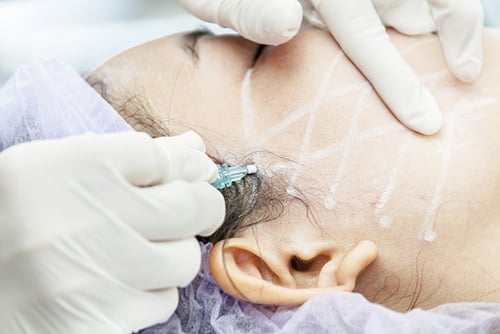 Can be used in appropriate candidates who do not want surgery and a less expensive alternative to surgery
PDO Thread Lifting Sutures are a Class II Medical Device
Results are rated as highly satisfactory for patients and clinicians
Procedure takes 30 minutes or less to perform
Side effects are mild and recovery time is short
Longer lasting benefits from neocollagenesis
The Training: This training program is comprehensive and designed to enable the practitioner to integrate thread face lifting into their practice immediately upon completion. You will learn the theory involved in the technique, followed by a complete discussion and tutorial on the technique itself including suture options and materials used. As with all training programs at Empire Medical Training, Vendors for Aesthetics and more specifically for the new FDA Cleared Thread Lift Sutures, will be onsite to answer specific questions concerning the various thread options, their associated costs, as well as other materials and supplies to get you started.
Empire-Wow-Guarantee™- We are so confident that you will thoroughly enjoy our courses that we NOW offer the only industry-wide, unmatched 100% money back guarantee and travel refund!  With over 18 years and 45,000 successful graduates, our record speaks for itself. Empire-Wow-Guarantee™, read more…
The didactic presentations: You will receive training in the anatomy covering the entry points, anchoring points, landmarks, danger zones, and relevant structures that will be integral in the technique. You will learn specific protocols and a step by step method for the indicated anatomical areas to safely perform this technique. Using Empire Medical Training's proprietary method of training, Rapid-Retain-Repeat®, you will receive your own computer Tablet to use during the training and participate in the most effective method of training available.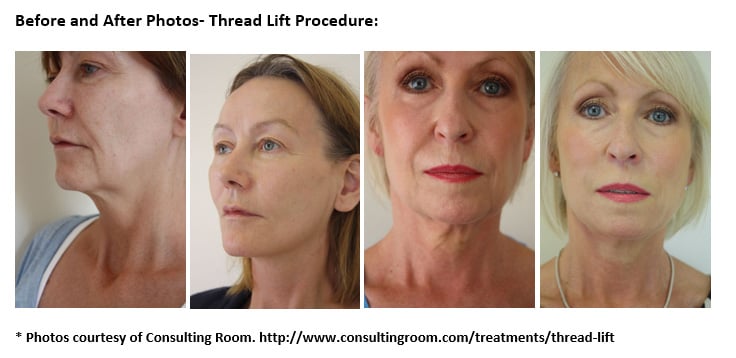 The EZ-Lip Fill, EZ-Neck Mesh, EZ-Cheek Mesh with Miracu® sutures are 3 quick, simple and efficient procedures:
Popular Indications for Treatment:
Vermillion Border (Lip Definition) Filler: procedure is very simple and takes less than (5) minutes to place the smooth PDO threads.  There is no chance of asymmetry as the PDO threads are equivalent, results are immediate and the duration of the correction varies from (3) months to (6) months – anesthesia is optional.
Neck Filler (Smooth & Twisted Threads) Lift: procedure typically consists of the placement of up to (10) smooth PDO threads for the correction or reduction of skin laxity for the submental region, chin and jaw area, and laxity of the neck.  The smooth PDO threads give support and volume to the area that can create smoothing and eliminate contrast across the areas.  The procedure takes less than (10) minutes and is not contraindicated with other types of treatments such as botulinum toxin.
Cheek Augmentation (Mesh): procedure consists of creating a matrix under the skin that allows for volume across a larger area such as the cheeks.  It requires as many as (10) smooth PDO threads for correction and will give greater support of the checks and will improve skin texture where the threads are built up under the skin (neocollagen formation).  There is also no need for anesthesia for most patients. The Smooth PDO Threads allow for volume and support of tissues, besides the facial areas mentioned above it can be used in body part areas giving support to tissues and volume for such areas as the arms, décolleté, and other small body areas of correction.
Empire Medical Training also offers the Barbed PDO Threads that is a deeper injection point and has the ability to attach to tissue and physically lift lower tissues similar to a facelift.  The Empire Medical Training Miracu® PDO Barbed Surgical Thread Lift Training is a Level II course that has pre-requisites to the training.
The morning sessions: This training will cover technique, protocols, patient selection criteria, indications, contraindications, how to prevent side effects, complications, how to treat complications, performing a focused history and physical exam, cosmetic consultation, photography, all materials and supplies needed, purchasing decisions and guides to suppliers and vendors.
The afternoon sessions: Students will learn "Miracu™" techniques and perform hands on training using live patients or custom fabricated models specially designed for surgical training along with animal cadavers. These scientific training aids have long been used to train students in a variety of surgical techniques. In addition to the dedicated hands sessions, a live demonstration of a complete facial thread lift procedure will be performed on site for attendees to watch and learn including a pre-operative assessment of the patient. This is more than just the "see one, do one, teach one", you will leave this class with sufficient practice and hands on exposure to gain a good level of confidence.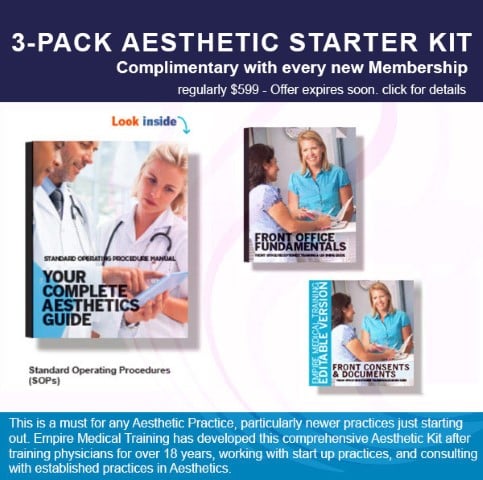 Course Completion/ Certification: Upon successful completion of the program, you will receive a completion certificate and procedure certification. Attendees may pursue an additional board certification through the American Academy of Procedural Medicine if so desired. Contact the AAOPM for additional information. Call 888-998-1297.
Course Completion/ Certification: By completion of the course, attendees will thoroughly understand how to perform the thread lift technique through complete didactic course presentations given by two highly skilled and trained board certified surgeons and through comprehensive hands on training.
Your Instructor: A qualified, board certified Surgeon with over 30 years' experience performing just about every cosmetic surgical and non-surgical technique available today. Not only credentialed and experienced, Dr. Avelin remains a favorite instructor to our physicians due to his dynamic teaching style and desire to help others learn. Dr. Avelin's partner in the Thread Lift Training course is Dr. Pinetta, also an experience, board certified surgeon. At Empire, we adhere to the belief that your training is only as good as your instructor's credentials and skills.
How does a PDO Thread Lift Work? A PDO thread lift procedure can help lift the sagging parts of the face to create a more youthful look in your patients.
PDO (polydioxanone) is the material used in surgical stitches. Physicians started to use PDO threads, not for surgical stitches, but insert in the skin so that PDO would continuously stimulate collagen synthesis. When PDO threads are introduced into the skin, it acts as a "scaffold" for the skin which helps to "hold" the skin against the effects of gravity. The threads can also shape the face by lifting and supporting sagging structure providing the "mesh". PDO threads are absorbable and therefore, there will be nothing after 4-6 month. But the effect will continue for another 15-24 months.
The procedure itself is considered to be a non surgical technique because there is no incision or traditional cutting of the skin. Tiny entry holes are made into the areas where the invisible threads will initially be inserted. The procedure itself takes approx. 10-30 minutes depending on how many areas of the face will be treated.
The thread lift technique works by lifting different parts of the face and body using  special threads specific to the thread lift technique. There are a variety of names used to describe the procedure and trade names associated with the various products used, such as the Feather Lift ™, Silk Lift ™, APTOS™, Contour lift™, and the former Lifestyle ™.
There are two different types of threads used for the Thread Face Lift:
Suspension, Smooth Threads- These threads need to be attached to a firm surface such as the scalp or face.
Barbed Threads (Free Floating Cogged) – This variety of thread does not need to be attached or supported to a separate structure in order to maintain a lift. These threads support themselves. The tiny cogs within the thread actually attach to the skin itself. The number of threads used depends on the area being treated, i.e. full face 18-20 threads, checks 2-3 each.
What areas of the body and face can be treated with PDO Thread Lift Sutures?
Indications for use: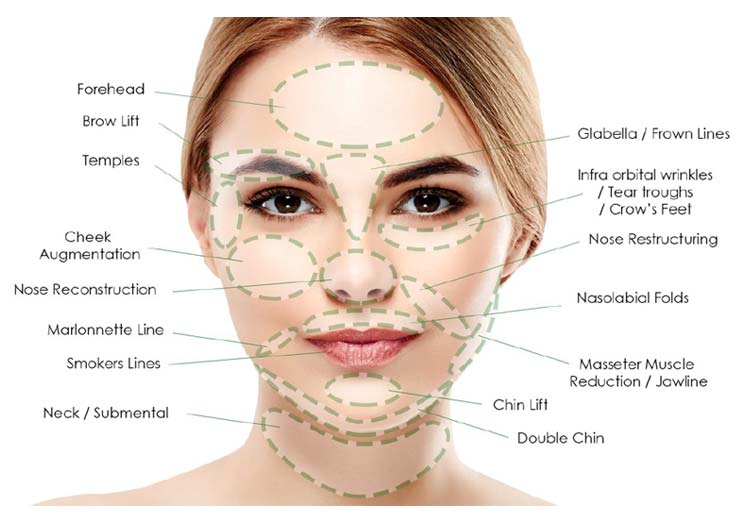 Forehead Lines (vertical/horizontal)
Flaccid Tissue (eyebrows)
Lower Eyelid
Cheeks (Skin furrows and wrinkles)
Neck Area (Furrows and wrinkles)
Nasolabial Folds (smile lines)
Corner Commisure (marionette)
Skin Furrows/wrinkles (neck and cheek)
Jowls, Double Chin
Cleavage (wrinkles of breast)
Other Body Part Areas