Anti Aging Training
We Provide Extensive Anti Aging Medical Training
To Register for both modules choose from the dates below.
The popularity of Anti-Aging medicine is fast becoming the next great model of health care and making Anti-Aging Training more popular. In the Anti-Aging conference and Anti-Aging courses you will learn how to recognize and diagnose patients suffering from a variety of chronic ailments where conventional medicine has failed to correct or has masked the symptoms rather than affecting the cure for these patient presentations.
Throughout the aging process, our bodies change and we develop certain deficiencies that occur due to life changes and genetics. We develop various chronic or persistent symptoms that we put off to "old age" when in fact these conditions are a result of over/under glandular activity. Hormones decline as we age; bioidentical hormone therapy replaces the hormones that your body needs to function.
Our Anti Aging and Integrative Hormone Therapy course, from our Anti-Aging conferences, will safely teach you how you can test for, analyze, and effectively treat a variety of chronic conditions that may be associated with abnormal hormonal levels including:
Sleeping Disorders
Chronic Fatigue Syndrome
Post and Peri- Menopausal Symptoms

Menstrual irregularities
Night Sweats, Cystic Ovaries, Uterine Fibroids
Depression, Mood Swings
Mood Swings, Foggy Thinking

Low Libido/Infertility, Sexual Dysfunction
Anxiety Disorders
Andropause Related Symptoms
Bone Loss
Inability to lose Weight, Excessive Weight Gain
Premature Hair Loss
Unspecified Aches & Pains
And other persistent symptoms...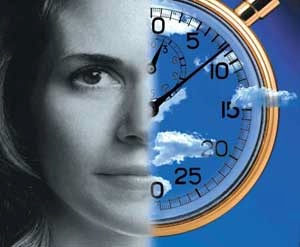 Integrated and regenerative medicine has replaced traditional medicine for these chronic symptom management by combining therapies that utilizes natural supplements in conjunction with HRT to effectively balance hormonal levels. Bioidentical hormones are molecule by molecule exactly the same as the hormones present in the human body. The opportunities now allow you to treat the disorder rather than mask the symptoms through prescription medications.
Anti-Aging medicine is now a $15B market which includes many natural, common sense ways to improve the overall health and in alleviating many health issues for your aging patient base. Learn about supplements, nutriceuticals, and latest HRT protocols and diagnosis techniques for a variety of health issues while understanding the science behind these new treatments and protocols. This program will provide physicians with the latest information and extensive therapies and treatment modalities in the preventative health care field far beyond conventional medicine.
Integrated & Regenerative Medicine, Anti Aging Workshops and More
With Anti-Aging medical training and Weight Loss programs in your practices, you can now offer patients a healthy approach to looking and feeling great. As physicians, we have seen the most noticeable advancements in these areas in recent years and the clinical data is constantly being updated and yielding significant results. The compounded medicines are more effective and safer than ever before while the medical protocols and testing necessary are simple to follow and utilized within your clinical practice.
This program is presented by Physician Specialists who run their own weight loss and anti aging centers. They have helped thousands of patients, and have also succeeded in implementing profitable revenue centers in their office setting. These physicians, as well as other entrepreneurs and business speakers, will outline the specific steps to successfully integrate these services into your own practice. This is a comprehensive program that will prepare you to understand all the clinical parameters needed, as well as patient selection and medical protocols that you will follow on every patient.
Objectives for Anti-Aging Training
Upon Completion of this program, the physician should be able to:
Learn to perform the new-patient comprehensive evaluation and workup.
Learn the medical and biological conditions that lead to poor health and how to scientifically address these issues to tailor an individualized form of treatment for your patients.
Learn the anatomy and physiology of hormonal function and related end-organ effects while understanding the delicate hormonal balance in men and women.
Learn to correctly interpret hormone studies and render a diagnosis and treatment plan.
Learn the various studies and tests to correctly evaluate your patient and their symptoms.
Understand the specific strategies of Hormone Replacement Therapy.
Understand how to replace safely; estrogens, progesterone, and testosterones using various delivery mechanisms available.
Learn how to integrate and develop a profitable anti aging practice. Learn from successful physicians and business faculty who have thriving anti aging / weight loss practices.
Included with the course you will receive information on natural supplementation options for your patients as well as the use of secretagogues for patients to naturally enhance their well being. Secretagogues can be used in place of such hormones as HGH in soliciting a natural response by the body to create the much needed HGH biologically without the need for hormone replacement.
Click Here to See what others are saying regards an Empire Medical Review

Pricing Options and Savings Comparison
Compare savings between a single seminar and the various membership options. If attending more than one seminar, memberships typically are the best value.
Platinum Membership

Attend all 24 Aesthetics & Medical Workshops
FREE ($20,000 Value) Price increase to $5,000

Sign Up Now

Diamond Membership

Attend All Platinum & Pain Membership Workshops FREE ($30,000 Value) Price increase to $6,000

Sign Up Now

Pain Specialty Membership

Attend all 7 Pain Management Workshops FREE ($10,000 Value) Price increase to $4,999

Sign Up Now
Locations & Registration