Other Botox Courses
Complete Botox Training
CME Accreditation: 8.0 AMA PRA Category 1 Credits™
Botox Training Courses for Physicians, Nurses, Dentists and other licensed healthcare professionals
Alicia Almendral, MD - New York
Empire's Botox Training course is intended for Physicians, Nurses, Dentists, and other Licensed Healthcare Professionals who are eager to learn a specific skill set associated with mastering the injectable procedures. Our Botox workshops, and other aesthetic procedure training classes, are offered throughout the year at major destination venues just about every weekend.  For your convenience, we have scheduled our most popular aesthetic training courses over a weekend so you can more easily attend the complete set of programs. These complete courses in Botox Training, Dermal Filler Training and Facial Aesthetics Workshops are the very basis for every Aesthetics' practice.
And now with our risk free, Empire-Wow-Refund-Guarantee™, you can register for any class or membership with complete confidence.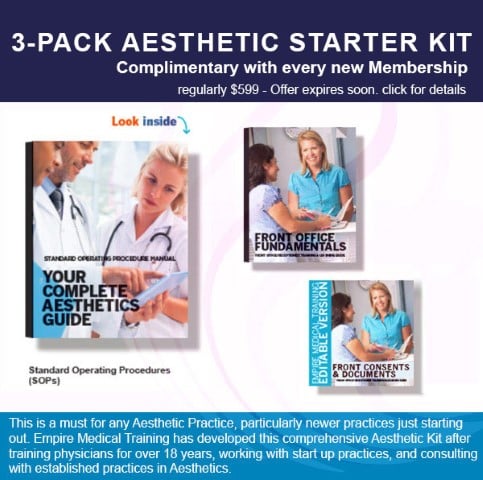 Overview: The Botox Training workshop is very complete and all inclusive and created so that you can immediately begin performing these techniques on your own. The general format of the workshop is to receive very detailed lectures in the morning followed by intensive hands on training in the afternoon.
The workshop gives you the opportunity to use real Botulinum Toxin products on actual live volunteers. In fact, a good percentage of your tuition is used to purchase these supplies as well as all the medicines you will be using. Attendees are also welcome to bring along a friend or companion if you choose to use them for your injections. (Why not, they are receiving FREE injections. We never charge our volunteers).
Botox Training - Workshop Topics
EMPIRE PARTNERSHIP WITH MERZ AESTHETICS: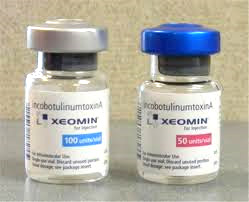 Special Pricing, Increased Profits and Revenue: Practitioners who attend an Empire sponsored training program will have an advantage right from the start. If your goal is to learn new Cosmetic Procedures and create new income, you will be happy to know that once you attend an Empire workshop, you will immediately be able to purchase Botulinum Toxin Type A injectable cheaper than any other practitioner who is not an Empire Member.. That's right! Empire has negotiated special pricing exclusive for you and all Empire participants. For more information and to receive your username and password for product purchasing, contact and Empire representative.
Physicians, nurse practitioners, dentists and other licensed healthcare professionals will learn all the protocols associated with each of the Botulinum Toxin Type A products such as Botox Cosmetic as well as the newer, highly effective Xeomin and Dysport products. To operate a successful aesthetic practice it is important to know about and be able to utilize the different products your patients may ask for. Each will be available and used during the hands on portion of the class so you can decide on your own which Botulinum product will best suit your practice objectives.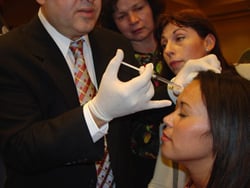 Comprehensive Training and Certification: This is a certification program intended only for Physicians and qualified health care practitioners. After completion of the course and demonstration of proficiency, you will receive your certification and course certificate. Attendees also have the option to receive their certificate framed in an attractive wood and metal plaque.
We provide physicians, nurse practitioners, dentists and other licensed healthcare professionals with everything needed to perform Botox injections safely and correctly in your practice so that you will not only become certified to perform Botox injections, but will also gain a level of confidence working on your own patients. We have successfully graduated thousands of medical professionals over the past 17 years and helped many of them set up their own Aesthetic practices as well.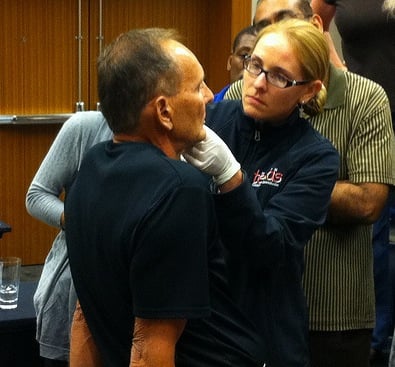 Practical Training: The training you receive covers more than just theory, our instructors teach you the "pearls" of performing Botox injections as well as on the entire process and everything related to the overall procedure. You will learn how to perform every cosmetic procedure in Botox as well as how to reconstitute Botox, where to buy your product, how to price the procedure, learn our unique strategies that will have your patients committed to only having you perform their Botox injections, and many other proprietary and unique techniques created and taught by us.
Lecture and Course Presentations: Attendees receive a complete set of training materials which are intended to be used later on as a reference tool in your office. The materials include a comprehensive training manual, written protocols, 2 aesthetic manuals, consent and treatment forms on CD, instructional videos on each procedure (DVD and through VIP members only login), and a supply of marketing materials and a marketing workbook. The didactic presentations are extensive and up to date with the newest protocols and information available. Our staff and team of instructors are constantly updating our material.
Advanced Botox and Dermal Filler Training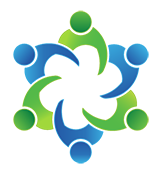 In addition to the comprehensive training you will receive during this Botox workshop, Empire is proud to offer our exclusive, advanced program in Botox and Dermal Filler techniques, through our "Meet the Experts" series.  Immediately following the daytime Botox program, you are invited to Join your colleagues for dinner, training, and an intensive learning experience after which you will be awarded your complimentary wood and gold plated plaque ($178 value).  This is a complete program intended to compliment and provide you with the final information you will ever need when working with these injectable procedures.
There are many advanced courses available including programs offered by Empire; however, we have created this "Meet the Experts" series to facilitate your learning pathway by being cost effective, convenient, and time saving. 
The evening program covers a significant amount of information in a short period of time and this is facilitated by limiting attendance to very small groups. This limit on attendance, however, causes registration to fill up quickly. We apologize in advance if registration is full.
The "Meet the Experts" series sells out quickly due to the popularity and the limit on attendance; however, we do offer this program quit frequently around the US so chances are you will be able to find a program close to home. Please register in advance or contact our corporate office for availability and upcoming dates and locations.
Botox Training - Workshop
Botox Training - Workshop Objectives
Course Instructors: Our physician instructors have been teaching exclusively for us for many years and have extensive experience and knowledge in Aesthetics. We have received thousands of written and video testimonials regarding our instructors and they contractually may only teach for us. Our team has developed many unique and proprietary techniques and methods to help you successfully integrate these new techniques into your practice. They are eager to share this knowledge with you.
Hands On Training: Unlike some seminars, our programs are not demonstration only. In fact, attendees are expected and required to administer Botulinum Toxin on patients in order to receive their certification. The afternoon session is reserved for intensive hands on training, where our instructors will be carefully monitoring your technique and style of injecting to help improve on your skills.
Ongoing Support and Consultation: In addition to our top notch staff, We provide ongoing support and consultation not typically provided in medical education. For one, We provide a library of instructional videos to help you refer to these techniques later on. These are free videos and are intended to help our attendees. In fact, you may even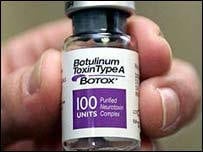 begin learning about some of these techniques today because many are available on our website. You will have access to our complete library once you attend a program. While you are reviewing the instructional videos, have a look at what your colleagues have to say about our workshops. There are over 100 videos published on You Tube and our website today.
Space is limited and these courses fill to capacity quickly. Make sure you call ahead to reserve your slot.
You might think Botox training is only for cosmetic surgeons, dermatologists and other professionals that deal with cosmetic treatments. However, this assessment would be inaccurate, as any medical professional is able to complete training and become certified in providing Botox® services. For instance, some medical doctors are looking for ways to increase their potential revenues for their practices. Offering cosmetic services provides a viable solution. Instead of having to refer patients seeking these services elsewhere, they are able to supply solutions in their own offices. In addition to Botox®, many medical professionals decide to complete other related aesthetic training courses, such as cosmetic laser treatments, Xeomin® training, and facial aesthetics training, to offer a wider variety of services.
Learn About the Latest Techniques Being Used with Botox® Training
Botox® training is just one course you will find that we offer in aesthetics. In addition to Botox®, there are also a variety of aesthetic and cosmetic courses, including dermal fillers and acne treatment training. Each of our training courses is designed to provide you with in-depth knowledge about the particular area of study. Our instructors teach you about the latest technologies being utilized in the field, as well as give you hands-on training on real test subjects to help polish and refine your skills. Further, each course contains a business section to teach you how to market and advertise your newly acquired skills, to help grow your business. Further, each course has its own set of course objectives and includes learning about what information will be needed to pass certification exams.
Preceptorship Training: This option is available with all training programs for students who have completed any live training event. Following the completion of any live event in either Aesthetic Medicine, Pain Management, or Anti Aging and Regenerative Medicine, you may request to arrange our board certified physician instructor travel right to your office for additional, one on one training.
Our Physician instructor will travel to your location and spend 1 day with you training and performing additional techniques on your patients. This is a custom program and can be structured exactly how you like. Empire has trained thousands of physicians this way and has become extremely popular because of its effectiveness, savings in tuition, and potential to earn more revenue during that day performing techniques on patients with our instructor. The typical tuition is less then what you think and includes all travel and related costs. Training can usually be arranged as early as within 7-10 days; however, additional notification is certainly appreciated. For more information or to schedule your training, call us today at (866) 366-1576
Top Botox Cosmetic® Techniques You Will Learn at Workshop
(This is just the actual procedure list; you will also learn pricing and packaging, marketing, constituting and preparing Botox, Storage and handling, technique and live hands on training, as well as new technologies and new APPS to assist you in practice. Also included of course is your certification-certificate, and your Gold Plated Diploma Plaque (included FREE with any membership, $178 value)
Botox Cosmetic for Treating Forehead (Frontalis) Rhytids
Glabeller Injections- Learn Central Eyebrow Lift
Eyebrow shaping with Botox Cosmetic – Lateral and Medial
Crows Feet- Lateral Canthal Rhytids
Lateral Orbicularis Oculi – advanced eyebrow shaping
Technique for Sad and Gummy Smile-
Jawline and Chin Shaping 8. Liquid Face Lift
Advanced Techniques- Static Rhytids
Mentalis injections
Accreditation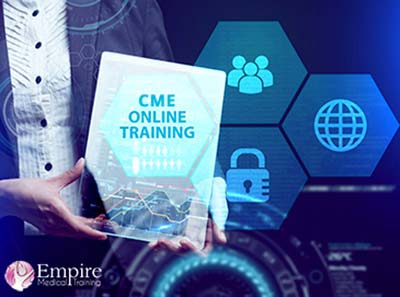 This activity has been planned and implemented in accordance with the Essential Areas and policies of the Institute for Medical Quality/California Medical Association (IMQ/CMA) through the joint providership of CME Consultants and Empire Medical Training.  CME Consultants is accredited by the Institute for Medical Quality/California Medical Association (IMQ/CMA) to provide continuing medical education for physicians. 
CME Consultants designates this live activity for a maximum of 8.0 AMA PRA Category 1 Credits™.  Physicians should claim only the credit commensurate with the extent of their participation in the activity.
Target Audience: Our activities have been formulated and implemented to satisfy the educational needs of health care practitioners (physicians, physician assistants, registered nurses, nurse practitioners, and Dentists who are directly involved in the care of patients in the areas of Aesthetics, Medicine, Pain Management, Anti-Aging and Surgery.
Teaching Methods: All Empire Medical Training programs follow a rigorous teaching model that includes a combination of lecture/didactics with intensive hands on training. Empire has created a proprietary method of training, namely the Rapid-Retain-Repeat™ that ensures learners are properly trained during the workshop events. The method, in part, involves providing attendees with preconference materials for completion prior to the event, followed by on site lectures coupled with examinations, oral testing, and hands on demonstration of proficiency.
Faculty Name and Qualifications: See Faculty Page
Disclosure Information of Planner and Faculty:
Planners from Empire:
Stephen Cosentino, D.O. – No Relevant Financial Relationships to Disclose
Judy Hyle CHCP – No Relevant Financial Relationships to Disclose
CME Consultants CME Committee Members (Joint Provider):
Harold Damuth, M.D. - No Relevant Financial Relationships to Disclose
Lester Holstein, M.D. - No Relevant Financial Relationships to Disclose
Michael Marchiano, M.D. - No Relevant Financial Relationships to Disclose
Drs. Butler and Dore both disclosed Relevant Financial Relationships.  However, none of their relationships were a conflict of interest related to the topic.
Melvin Butler, M.D. -
Stockholder - Abbvie, Amgen, DuPont, Intuitive Surgical, Lilly, GlaxoSmithKline, Merck, Johnson & Johnson, Pfizer, & Medtronic.
Robin Dore, M.D. -
Speakers Bureau and Consultant - Abbvie, Amgen, Iroko Pharmaceuticals, Lilly, Pfizer, Takeda, UCB, and Celgene.
Clinical Trials - Amgen, Lilly, Pfizer, and Abbvie
view also: Botox Training for Dentists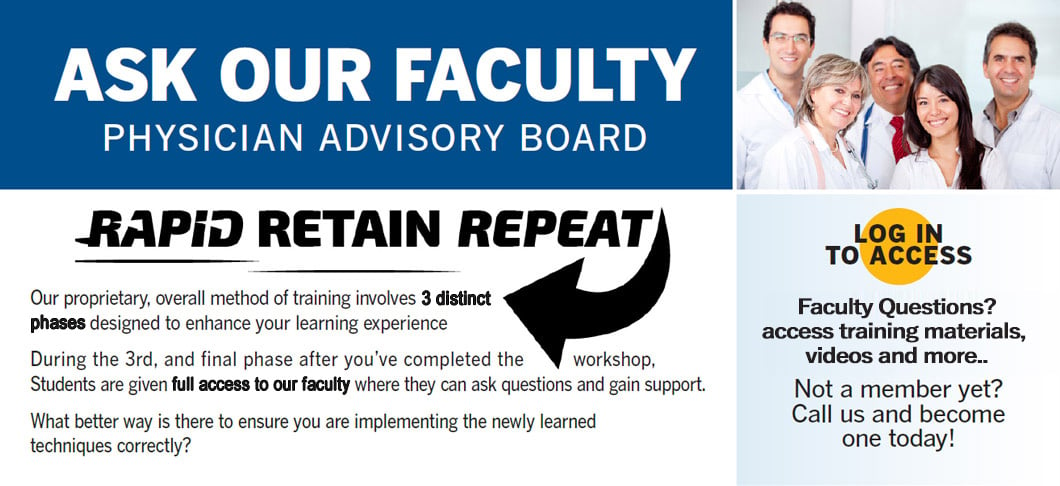 Click Here to See Reviews of our Botox Certification Courses