Platelet Rich Plasma Training for Aesthetics
CME Accreditation: 8.0 AMA PRA Category 1 Credits™view more CME info about PRP accreditation
Hands-On Training in Medical, Alopecia and Aesthetic Applications for PRP and Stem Cell Therapies.
Platelet Rich Plasma (PRP) - Testimonial
The popularity of Platelet Rich Plasma (PRP) treatments among patients for aesthetic purposes has exploded in recent years as patients are now realizing the long-term and permanent benefits of this procedure. With the average treatment cost of $800 - $1,800 per patient depending upon indications aesthetically or medically, it allows for the physician to realize additional cash revenues within their practice with little or no capital expenditure. Empire Medical's Platelet Rich Plasma (PRP) Training is the perfect complement to other aesthetic injectable procedures (i.e. Botox/Dermal Fillers) and can be easily incorporated into any type of medical or aesthetic practice.
The Platelet Rich Plasma course will concentrate on the application of PRP aesthetically and will include combination therapies such as the stem cell facelift (PRP, Botulinum Toxin, Dermal Fillers, and Micro Needling) as well as stem cell facial (PRP and Micro Needling) besides the stand-alone treatments for aesthetics and medical applications. Platelet Rich Plasma treatments continue to be utilized in most aesthetic practices and is a cash basis procedure that naturally complements aesthetic outcomes for patients.
PRP therapies allow for the separation of a patient's blood through a variety of harvesting techniques to extract a concentration of autologous platelets (2.5x – 9.0x). These platelets when activated release adhesive glycoproteins (fibrin, fibronectin, and vitronectin) and various growth factors forming a fibrin mesh under the tissue. The growth factors and/or cytokines released when the concentrated autologous platelets are activated in soft tissue include:
Transforming growth factor beta (TGFβ) – cell division and stem cell attraction
Connective tissue growth factor (CTGF/CCN2) - wound healing and adhesion of cells
Insulin-like growth factor I & II (ILGF) – encoded in the IGF1 Gene
Vascular endothelial growth factor (VEGF) organ regeneration | tissue support
Epidermal growth factor (EGF)
Interleuken 8 – activates signaling pathways inducing chemotaxis
Fibroblast growth factor (FGF) - wound healing/aesthetics
Keratinocyte growth factor (KGF/FGF7) paracrine mediator of epithelial cell growth
The signaling pathways associated with PRP include the stem cell marker CD34+ and stombal derived factor – Alpha (SDF-1A) that attract stem cells and recruitment of stem cells to the repair | regeneration site.
Once these proteins and growth factors bind to the cellular receptors of skin tissue (fibroblasts, endothelial cells, and osteoblasts) at the injection point, they activate a variety of intercellular events which help mediate:
Angiogenesis
Migration of stem cells to the injection area
New Cell proliferation
Production of extracellular matrix proteins
Regeneration occurs within the tissues and fibrils ensues, growth and tissue repair will continue for up to (5) weeks after the injections. The result is promotion of local tissue growth and repair of damaged tissue that is permanent. Contrary to other solutions for the skin such as Botox and Dermal Fillers, PRP is natural (non-synthetic) and will not be reabsorbed or synthesized by bacteria.
PRP Training - Course Information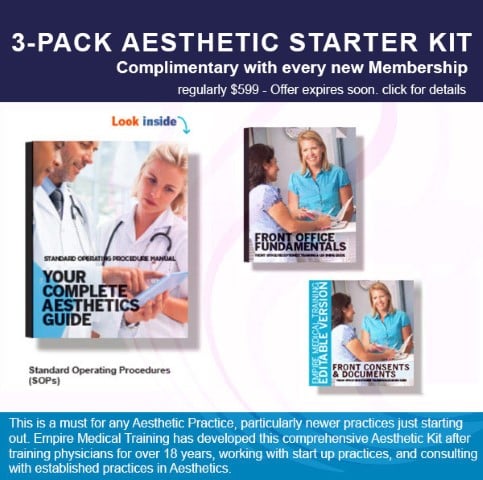 The Empire Medical Training Platelet Rich Plasma course will review all of the indications for the use of PRP for all aesthetic, medical, and alopecia indications.  This evidence based course allows for you to understand and fully integrate this popular procedure within your practice and include the following indications:
Aesthetic Indications

Facial Areas (upper and lower)
Neck Areas
Décolleté
Hands

Alopecia Treatments

Male and Female Pattern Baldness
Female Endocrine Considerations including testing and optimal values.
Use of Biologics with PRP (Bio-D and A-Cell)
Conjunctive Prescription and other Combination Therapies including micro needling, growth factors, and post treatment options.

Sexual Dysfunction

Intra-Cavernous Injections for Males (Male Stem Cell Shot)
Intra-Vaginal Injections for Females (Female Stem Cell Injection)
Adjunctive Therapies for Sexual Dysfunction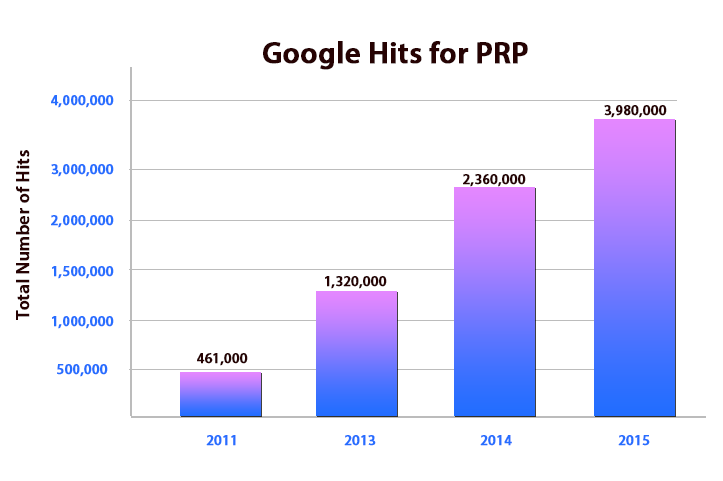 The course will give full protocols to follow for the indicated areas including contraindications, adverse events, and post procedure considerations.  The PRP procedure is a "cash basis" procedure in many cases and detailed pricing and packaging solutions will be discussed including the marketing of these new medical and aesthetic procedures.
This comprehensive Platelet Rich Plasma Workshop (PRP) will discuss the component factors of platelet rich plasma as well as the (2) FDA approved PRP preparation processes (single spin and dual spin) and re-injection techniques and protocols. Clinically, PRP has been used by oral surgeons, orthopedic surgeons, podiatrists, and plastic surgeons for over 15 years. Over 2,500 hospitals nationwide utilize PRP in medical procedures for a variety of intra-operative procedures. Platelet-rich plasma procedures have also received considerable attention in the popular media because of its use in treating sports injuries in professional athletes.
The Platelet Rich Plasma Training course will provide you with hands-on training through live interactive demonstrations on patients for aesthetic and alopecia uses. After taking an Empire Medical workshop you will gain a high level of proficiency in performing PRP injections, and will understand why many patients looking for these innovative techniques.
Like all of our aesthetic workshops, this is a comprehensive certification program that will provide each attendee with extensive sessions and patient education. This PRP Education seminar will be taught by Board Certified Plastic Surgeons and other specialists.
Our expert physician staff of Board Certified Plastic Surgeons and specialists will work closely with each attendee to help ensure that the attendee's skill level in performing the various sculpting techniques and desired correction for the patient is sufficient. Didactic instruction will cover all client expectations, indications for treatment, techniques and protocols needed, along with any contraindication, potential risks, or possible side effects with the procedure.
Attendees will receive a full course manual with specific protocols and reference material along with treatment forms, consent forms, and other patient intake forms that can immediately be implemented into the practice. Also, an adequate amount of time will be devoted to pricing each procedure and specific marketing protocols that have proven success in our practices.
Platelet Rich Plasma Therapy: Course Objectives
Thoroughly understand and become proficient in the following areas:
Learn specifically the kinds of wrinkles, tissue damage, aesthetic enhancements, alopecia indications, and pain areas that can be improved using the various types of PRP technology available and injection techniques for correction.
Understand the other uses for PRP including medical, sexual dysfunction, and alopecia treatment. Receive the protocols to each of these treatments and understand when these options would be appropriate for patients.
Become knowledgeable to the pros and cons of the various spin methods (single spin/dual spin) and the clinical validity of medical grade solutions as compared with commercial non-medical solutions that are promoted through the Internet, You-Tube, and trade shows.

Gain specific knowledge as to the component factor of platelet rich plasma, clinical validity of PRP, aesthetic uses for PRP, alopecia treatments, and the use of PRP for male and female sexual dysfunction.
Understand the various FDA Approved protocols associated with PRP therapy including recommended indications, dosing, areas for treatment, and in combination with other tissue augmentation therapies.
Acquire the technical skill to perform all the various types of injections for the face and neck, décolleté, and hands using PRP and Micro Needling.
Understand the pros and cons, and when to use PRP therapy with your patients.
Learn how to properly and effectively present the various options to your patients including explaining likely results and setting expectations.
Platelet Rich Plasma Training (Aesthetic) - Agenda
8:30am--9:00am
Registration

9:00am--10:30am
Overview
Component Factor of platelet-rich-plasma; what is platelet rich plasma?  Growth factors, stem cell markers, and other cytokines within PRP, and Major Steps for Activation. Review of (2) FDA approved PRP preparation processes, PRP Kit Differences, Dual Spin vs Single Spin. Clinical validity of platelet-rich-plasma, Patient Indications for Treatment (Expectations)

10:30am--10:45am
Break

10:45am--12:30pm
Aesthetic applications for PRP for face, neck, and hands, Micro Needling for static rhytid indications and scarring for combination therapies.  Stem Cell Facelift and Stem Cell Facial protocols. Alopecia Treatments for Men and Women with conjunctive treatments with other biologics (A-Cell / Bio-D) including post treatment and pharmacological options and considerations and possible testing/screening of candidates.
12:30pm--1:30pm
Lunch (on your own)

1:30pm--2:45pm
Sexual Dysfunction injections using PRP for Men and Women (intra-cavernous/vaginal). Patient Selection, Relative Contraindications, Procedure for re-injection, Injection Charts & Dosages, Anesthesia options including Dorsal Block and testing/screening recommendations for women including optimal ranges.  Review for correct placement, safety and techniques including complications or adverse events.

2:45pm—3:00pm
Break

3:00pm--5:00pm
Hands-On Sessions. Small group breakout sessions with live volunteer patients. Attendees will have the option to administer PRP injections for aesthetic and alopecia indications as well as Micro Needling to show proficiency in review of the various treatment alternatives including injection technique and administration of the platelet rich plasma.