Private Pain Management Training (At Your Office)
There is really no better way to learn to perform procedures than by one on one training. You will be trained ONLY by qualified Physician Specialists who have dedicated their career to their specialty.
Empire Medical Training is the pioneer of this type of education and has been offering "preceptorship training' at physician offices for more than 20 years. WE have a staff of expert physicians from all the United States, chances are close to you.
Training at your office or at one of our "Centers of Excellence" save on travel costs by having us come to your office.
The medical need for pain management continues to grow and is no longer limited to specialty practices. Gain training in the variety of pain management procedures we offer and choose which areas you wish to integrate within your practice. Our faculty of Pain Management Specialists will assist you in learning these in-demand services at your office and give you the standard of care needed to perform these interventional pain management procedures safely within your practice.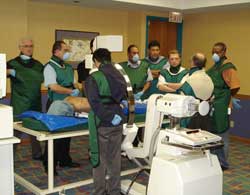 Private Pain Management Instruction
Training in YOUR OFFICE (we travel to you)...OR....
at our Pain Management Center
Earn Revenue While You Train
Save on Travel + Related Expenses
Keep your practice open - No loss of Income
Learn Facet Joint Injections, Sacroiliac Joints, Epidurals, Transforaminals, Large and Small Joint Injections, Trigger Points, Viscosupplementation, and any other interventional injection techniques.
CALL NOW (866) 366-1576