Private Pain Management Training (At Your Office)
The medical need for pain management continues to grow and is no longer limited to specialty practices. Gain training in the variety of pain management procedures we offer and choose which areas you wish to integrate within your practice. Our faculty of Pain Management Specialists will assist you in learning these in-demand services at your office and give you the standard of care needed to perform these interventional pain management procedures safely within your practice.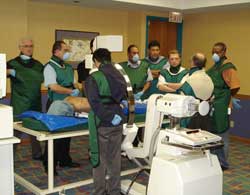 Private Pain Management Instruction
Training in YOUR OFFICE (we travel to you)...OR....
at our Pain Management Center
Earn Revenue While You Train
Save on Travel + Related Expenses
Keep your practice open - No loss of Income
Learn Facet Joint Injections, Sacroiliac Joints, Epidurals, Transforaminals, Large and Small Joint Injections, Trigger Points, Viscosupplementation, and any other interventional injection techniques.
CALL NOW (866) 366-1576