Cosmetic Laser Training Courses and Certification
2-Day Laser Therapy Training utilizing the Latest Technologies for Aesthetic and Dermatologic Applications | Hands-On Training
Cosmetic Laser Training - Testimonials
As part of Empire Medical's vast array of aesthetic training workshops, doctors participating in the Cosmetic Laser Training learn to understand and evaluate the growing number of aesthetic lasers. The aesthetic laser market is expected to grow over 20% per year through the year 2025 in the United States and is the perfect complement to your other aesthetic services.  These non-invasive cosmetic procedures and new ablative laser light energies allow for integration within any medical or aesthetic practice allowing physicians new revenue streams while increasing patient awareness and patient care within and outside your practice.
This 2-Day, intensive, hands-on Cosmetic Laser Training will give a comprehensive overview of how Cosmetic Lasers (Non-Ablative and Ablative options) and IPL function, including the physics of lasers/IPL. With our laser therapy courses, you will fully grasp all the various types of cosmetic lasers, their pros and cons, and other types of dermatologic and aesthetic conditions each laser can treat affectively.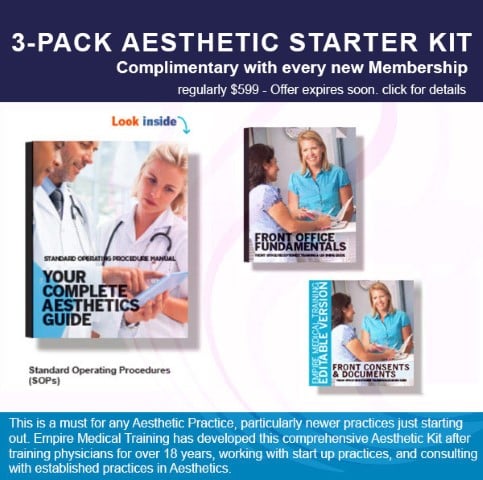 After completing this cosmetic laser training program, the doctor will gain proficiency and a thorough understanding of the various lasers available and how to use them safely and properly. We offer the latest standards of care including contraindications, photosensitizing conditions, potentially photosensitizing medications, and the ability to handle effectively complications and adverse events. Empire Medical Training showcases all the (7) major and second-tier manufacturers of lasers in the United States and rate these lasers by a rigid selection criteria. Courses are taught by Empire's esteemed group of medical and aesthetic training faculty.
Receive hands-on cosmetic laser instruction from only the top tier manufacturers and understand the limitations, pros and cons, and additional skin conditions that can be treated by Hair Removal Lasers, YAG Lasers, and IPL/Photofacial for face rejuvenation. In addition, we offer advanced discussions, hands-on training, demonstration and course study in Cellulite Reduction/Lipo Lasers, IR/Radiofrequency Skin Tightening, Cryolipolysis Technologies and sub-ablative RF lasers (for body shaping, fat reduction, and skin tightening).
Ablative lasers (Fractional CO2, ER-YAG, and Subablative RF) are discussed including FDA On-Label and off label uses.  Ablative lasers are commonly used for advanced facial aging indications, scars, and in vaginal rejuvenation (Fractional CO2).  Understand the indications for use, protocols, patient considerations, and alternative treatments for patients.  The laser market is exploding over these new technologies including various mechanical options such as Micro Needling (Vista Pen™) for scar revision and facial indications such as static rhytids.
Tattoo removal options are presented showcasing the latest technologies in Q-Switch technologies including the Picosecond laser devices as well as traditional Q-Switch and NdYag combination therapies.  Mechanical options for tattoo removal are also discussed as well as market growth analysis and profitability of treatments.
The investment in lasers is one of the largest capital investments you will make within your practice; make it the right investment by understanding the applications of these technologies relating to Diode Lasers, YAG Lasers, and IPL. In this cosmetic laser training, you will gain invaluable knowledge in Laser Physics, Laser Wavelengths, Standard of Care Considerations, Treatment Pearls, and Laser Protocols.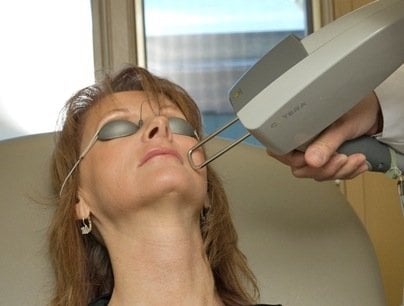 laser skin tightening
Learn which aesthetic lasers are right for your practice, understand what laser technologies are successful, and gain invaluable knowledge regarding the resale value of your investment as compared to refurbished, new, and used aesthetic lasers. We are only showcasing the top first and second-tier manufacturers with proven technologies that guarantee results in an independent, unbiased setting. Empire Medical has no associations with any of the manufacturers presented at this program (unlike other training companies). We also discuss the different options in obtaining these aesthetic lasers, including lease options and pre-owned equipment scenarios. EMT has no associations with any of the manufacturers presented at this program (unlike other training companies). We also discuss the different options in obtaining these aesthetic lasers, including lease options and pre-owned equipment scenarios.
Instruction for Hair, Tattoo Removal, Skin Rejuvenation Laser Courses and More
Incorporated within the laser therapy certification are Marketing and Business solutions that will help you understand the business aspects associated with an investment in Cosmetic Lasers. Learn and understand ROI Analysis and the many different techniques in successfully marketing your new aesthetic lasers to your patient population and outside your practice. Learn how and when to buy, what you should pay for the technologies, patient demographic considerations, and which laser combination technologies is right for your practice. Business/Financial model overview will be presented that will teach you how to price your services, create strategic alliances, evaluate and understand market trends, and develop and retain your client base.
Objectives for Cosmetic Laser Training
Understand and evaluate the patient with Aesthetic requests.

Learn essential physiology and anatomy of unique skin types of patients.
Understand and determine which types of treatments and/or will create the desired results.
Learn to communicate with patients and determine client expectations.

Receive a practical understanding of Laser Physics and Laser Safety.

Learn laser safety guidelines to ensure compliance with federal, state, and local ordinances.
Understand the hazards of lasers and how to avoid them.
Learn the different delivery mechanisms associated with laser treatments.

Lasers:

Learn laser protocols and perform laser hair removal, skin tightening, photofacial, venous treatments, tattoo removal, acne treatments, skin ablation, and other cosmetic treatment techniques through hands-on or demonstration.
Learn the on-label FDA approvals for devices as well as the commonly performed off-label uses for the correction of a variety of cosmetic and dermatologic conditions.
Receive detailed instruction in the treatment of patients, other combination treatment modalities, and alternative treatments.

Understand how to receive results for your patients – not just treatments!
Learn and understand the newer multi-platform solutions for IPL and lasers including the new specialty lasers and body contouring medical devices. Gain knowledge of the shortcomings, benefits, and "need to know" in purchasing and in configuration for your laser services to be offered.
Understand the various benefits and shortcomings of purchasing "new" lasers versus used and refurbished machines and how to purchase them to get the best price and value added to your system.
Marketing your Cosmetic Laser Offerings:

How to start up and market internally and externally cosmetic laser procedures.

Referral Program
Digital Marketing Strategies
Internal (Front Office Fundamentals)

Learn to implement specific strategies for marketing and practice growth.
How to price each specific treatment and provide package solutions/options.
Agenda
Day 1
8:00am–8:30am • Registration.

8:30am–9:45am • Instructor Introduction, Overview of the Cosmetic Laser Marketplace including trends, market size, and potential revenue streams and technologies available. Review of Laser Physics and mechanism of action for laser light based energies, intense pulse light (IPL), infrared (IR), radio frequency (RF), Bio-Stimulation, and Mechanical (Ballistic) types of lasers.  Laser Administrative | Safety Requirements for your practice including Laser Safety Policies and other OSHA and ANSI Standard requirements for employees and for your facility.

9:45am-10:45am • Overview of Non-Ablative Lasers and Skin Basics such as skin classification, photosensitizing medications, contraindications, and patient considerations for treatment.  Photofacial (Vascular | Pigmentation) using IPL and laser technologies including protocols and treatment pearls for various Fitzpatrick types.
10:45am–11:00am • Break.

11:00am–12:00am • Introduce other indications for Photofacial (off-label) such as for inflammatory acne and specific dermatological conditions (i.e. rosacea, melasma, and agniomas). Introduction to Laser Hair Removal including device selection, mechanism of action, areas for treatment, treatment considerations (active hair growth), and the latest trends and technologies (high speed hair reduction). Alternative uses for Hair Reduction devices for aesthetic sclerotherapy for telangiectasias (spider veins) and treatment protocols and in combination with injection therapies.  Patient consideration (Fitzpatrick Type) and protocols for treatment including education pearls, and expectations for results.
12:00pm–1:00pm • Lunch.

1:00pm—2:30pm • Introduction to other Non-Ablative Laser Light Energies including Radio Frequency (RF), Ultrasound (US), and infrared technologies for Skin Tightening, Acne Treatments, and Collagen Remodeling.  Review of technologies, indications for treatment, patient expectations, contraindications, and overview of the various manufacturers. 
2:30pm–2:45pm • Break.

2:45pm–5:00pm • Hands-On Training using the Non-Ablative Laser and Light Energy Devices in conjunction with vendor participation on "live patients".  Questions and Answers, Protocols and Post Procedure options are reaffirmed and include many of the ancillary laser services discussed throughout the course (combination therapies).
Day 2
8:00am–8:30am • Registration.

8:30am–10:45am • How to Successfully Market Your New Cosmetic Laser Procedures.  Product Price, Place and Promotion (4-P) of Cosmetic Laser Services. Learn to acquire at best price your laser device and the need for promotion.  Detailed Pricing Schedules are distributed along with practical, easy to incorporate direct and indirect marketing programs, comprehensive consultations, and sales campaigns using digital media and "word-of-mouth".  How to create a Million Dollar Practice in Aesthetic Services is presented as well as concepts such as "Patients for Life".

10:45am–11:00am • Break.

11:00am–12:00am • Body Contouring Devices for Skin Tightening, Cryolipolysis, Fat Apoptosis (Necrosis), and Temporary Reduction of Cellulite.  Physiology of Cellulite, Grading of Cellulite, and various laser light energy and mechanical approaches for the treatment of cellulite including natural estrogen inhibitors for maintenance and correction of Type I and Type II cellulite.
12:00pm–1:00pm • Lunch.

1:00pm—2:30pm • Overview and Introduction to Tattoo Removal and Ablative Light Energies including Fractional CO2, ER-Yag, and RF Subablative including patient selection, treatment protocols, contraindications, patient expectations, and adverse events.  Tattoo devices such as Q-Switch, Nd-Yag, and picosecond laser devices are discussed and suggested protocols, benefits, and disadvantages.  Alternative uses for ablative technologies such as vaginal rejuvenation and scar revision are given with complete treatment guidelines and protocols as well as alternative treatments. 
2:30pm–2:45pm • Break.

2:45pm–5:00pm • Hands-On Training using the Non-Ablative Laser and Light Energy Devices in conjunction with vendor participation on "live patients".  Demonstration of the Ablative Lasers by manufacturers and mechanical micro needling solutions for scarring and deep rhytids (Vista Pen™). Questions and Answers