Comprehensive Botox Training
Botox® has so many different uses and applications that Empire Medical Training physicians have had to continually update the Comprehensive Botox Training course to include many of the advanced Botox techniques not covered at other seminars; our goal is to ensure that attendees will get the most expert training as possible through our Botox classes. You will learn not only the basic, cosmetic applications of Botox, but you'll also be taught a myriad of the practical medical uses of Botulinum Toxin (Botox®) which means the potential for additional, new lucrative procedures for your practice. Our Botox courses will feature sample products on site (including the new Xeomin© and Dysport™) for use during the training, so that you may decide for yourself which of the various types of Botox best suit your practice. Attendees to the Botox training will also become experts in the handling and storage of Botulinum Toxin (Botox®) so that it can be safely stored and administered within your own practice.
The schedule for the programs on Comprehensive Botox Training, Dermal Filler Training and Facial Aesthetics Training are held over consecutive days, so that you can learn each of these valuable methodologies over the weekend.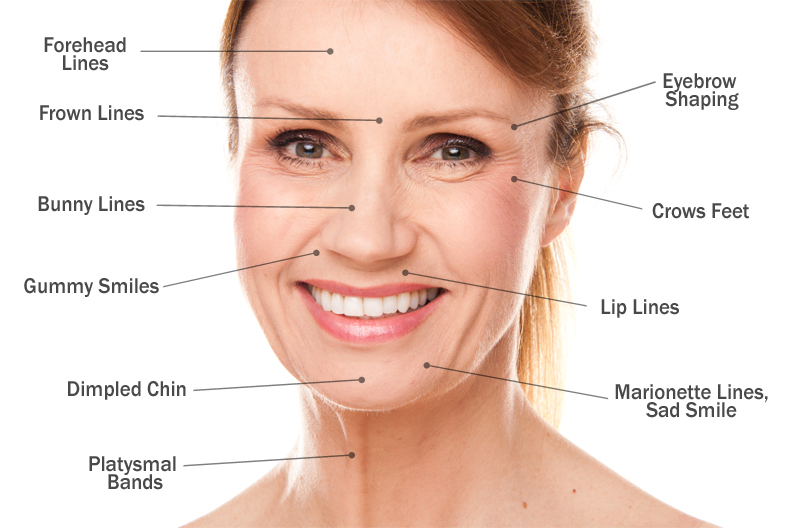 Professional board-certified specialists and additional instructors will be on hand to conduct all Botox® training and education. A favorite instructor to the A.A.O.P.M for over 5 years, William McMunn, DDS, MD, consistently receives excellent evaluations from the attendees due to his proficiency, patience, and understanding shown toward all attendees; he has helped many students achieve proficiency in the new procedures. Please note that these are full service Botox classes. Completion and Board Certification is contingent upon participants' administering of Botulinum Toxin (Botox®) on live patients. The key word to remember during this Botox® Certification program is "comprehensive."
As far as the Cosmetic Applications to Botox Treatments, nothing is left for you to learn on your own. Every useful clinical pearl that our instructors have encountered in their years in clinical practice will be shared with you. These clinical pearls actually comprise a significant portion of the morning lectures and cover such areas as Male vs. Female treatment with Botox, correcting poor results from another practitioner's poor technique, learn how to maximize your treatment results when your patient limits the amount of Botox you can use, learn unique techniques that your patient will remember only you can perform, learn how to develop patient loyalty to ensure your patient always returns to you, techniques to eliminate discomfort and apprehension in your patient, specific conversations and techniques to ensure your patient not only returns in 3 months but brings 2 additional friends as well as well as how to legally, effectively, and consistently perform "Botox Parties" for your vip patients. Prior attendees have commented that the Botox Training Course is extremely thorough and helped them to immediately begin implementing these new procedures into their practice.
Comprehensive Lecture, Course Materials, Training Manual, Treatment Forms
During the morning sessions you will be provided with comprehensive presentations in the evaluation and treatment of the Cosmetic Patient using Cosmetic Botox. These presentations not only prepare you to safely and effectively perform the techniques on your patient but also prepare you to gain the knowledge to pass your board certification examination, if this pathway is desired. You will be provided with extensive didactic training that makes use of written materials you can reference at a later time. This way, physicians (and other medical professionals) who attend our Botox® class will have a firm grounding in both the theoretical background and practical application of Botox.
Hands On Live Patient Training
All attendees will receive extensive hands-on, live patient training immediately following the morning sessions of lectures (After Lunch). The afternoon is entirely dedicated to instruction in the actual procedures in order for attendees to perfect their technique. Our instructors begin their teaching by using custom fabricated models that students can use to perfect their technique before injecting on live patients. After these exercises, students will perform a variety of Botox injections on volunteers. Attendees will practice performing such techniques as indicated to treat Forehead Rhytids, Crows Feet, Glabellar Rhytids, Gummy Smile, Sad Smile, Platysmal Bands, axillary injections for volunteers suffering from Hyperhidrosis, and last but not least the ever popular "Liquid Face Lift". Students complete the training and receive their certification upon satisfactory demonstration of the various techniques and when the attendee has gained a level of confidence as well.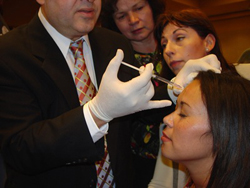 The bulk of your tuition for Botox training is well spent, used to purchase actual, authentic Botulinum Toxin (Botox®), as well as other supplies, ensuring each attendee is afforded the opportunity to work on live patients. Empire Medical Training is known for our extensive resource library which is available to all participants. Attendees will be provided a user name and login to access a variety of administrative forms, videos, and other materials to help you. At the course, you will also receive consent forms, before & after photos for your office, and our Resource and Vendor guide.
Should you wish to, you may bring along your own test patient (i.e. spouse, colleague, etc) to receive a free Botulinum Toxin (Botox®) treatment.
Create a following of ongoing Botox Patients: This instruction is very complete in the business and marketing applications as well. We review in detail how to price and package the different Botox techniques, how to develop a following of loyal patients, and how to train your patients to only want to see you for their Botox injection. Our goal is for you not only to develop the confidence and proficiency in performing each Botox procedure but also to really understand how to develop a large following of loyal patients who will return with their friends and family for additional treatments.

Pricing Options and Savings Comparison
Compare savings between a single seminar and the various membership options. If attending more than one seminar, memberships typically are the best value.
Platinum
Membership

Attend all 26 Aesthetics, Medical & Anti-Aging Workshops FREE ($20,000 Value) Price increase to $3,999

Pain Specialty Membership

Attend all 7 Pain Management Workshops FREE ($10,000 Value) Price increase to $4,499

Diamond
Membership

Attend All Platinum, Platinum Plus & Pain Workshops FREE ($30,000 Value) Price increase to $5,999

Locations & Registration