Mesotherapy Training
Mesotherapy (Lipo Dissolve) continues to be sought after by patients because of its relative simplicity in burning fat and cellulite, as well as the safety profile in comparison with liposuction. At Empire Medical Training, you will learn about the newest technologies available being utilized for fat and cellulite reduction such as the non invasive delivery systems (RF Thermal, Needleless Meso) along with receiving traditional Mesotherapy training. Our comprehensive Mesotherapy training gives the specific formulas, forms, consents, and prescriptions for you to have the ingredients for each mixture formulated and compounded. Like all of our aesthetic training workshops, this training is for established medical professionals looking to expand their procedural capabilities.
Empire is excited to be among the first to provide education and training on the new FDA drug, Kybella™ (Deoxycholate acid) in treating submental fat accumulation (double chin) in patients. Kybella is indicated in patients with fat accumulation in the submental region and is a non invasive treatment option compared to liposuction. Traditional Mesotherapy injections to this region have been recommended for years by physicians and have produced good results; however, not consistent. Now with Kybella, physicians and patients are excited about the long term results and expected outcome that can be produced even after the first injection.
During the Mesotherapy Training programs, physicians, nurses, nurse practitioners, and others will learn the protocols associated with the new FDA drug, Kybella™ (Deoxycholate acid). Finally, a medication that is FDA approved for treating fat in the submental region! With such a high demand by patients and the typical benefits, physicians are excited about offering this new procedure to their patients. And, with the $800 fee physicians are charging for a single visit, it is no wonder why health care professionals are eager to learn the protocols. During the mesotherapy class (and all of the Aesthetic courses) we go over in detail how you can market the new technique and we teach you about pricing, packaging, what your competition is doing and how to be different, and much more so you can be successful with each of the new techniques.
Kybella is sold as a single use vial of 2ml, but patients can receive up to 50 x .2 injections or 10 ml in total during a single visit. During the hands on training, you will learn how to properly and carefully perform a Kybella injection procedure, taking into careful consideration proper anatomical landmarks in order to prevent any potential complication. With improper needle placement patients can develop Marginal Mandibular Nerve (MMN) injury, which in most cases is self-limiting, is a complication which can be avoided with proper technique learned through carefully supervised and comprehensive training.
Kybella treatments are performed once per month for up to 6 treatments in total. Patients are happy with the results they can see in as early as 4-6 weeks after a treatment. So far, the only real questionable aspect to this treatment (at least for the patient) is the cost, at $800 for a single Kybella treatment, the series can approximate the cost of performing a submental liposuction procedure. The cost of this treatment was not determined in any random fashion and patients must  take into consideration the significant amount of research that has gone into creating this new medication to ensure a favorable safety profile and not just the pleasing aesthetic results.
During the mesotherapy course, you will not only learn the new Kybella treatment protocols , but also how to perform numerous , other fat reduction and fat melting procedures that have helped patients for many years, and for which Empire has trained many thousands of health care professionals. During each of the injection courses, we stress safety and technique and the instructors carefully watch over each attendee.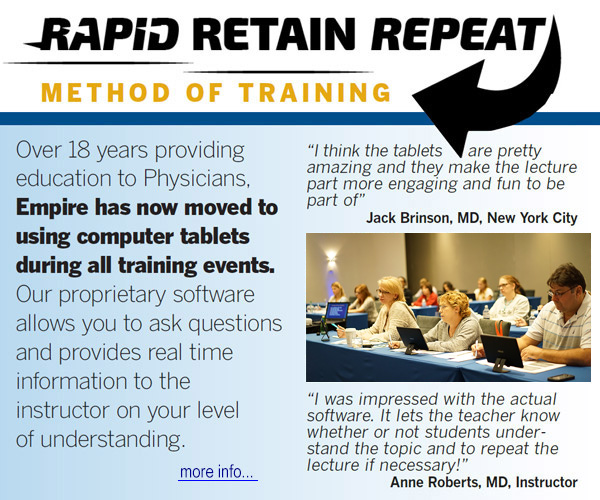 At $400 per office visit for 6-15 visits (average case $3500), offering Mesotherapy will create an exciting financial impact for your practice. Completing a Mesotherapy certification training workshop with Empire Medical Training fully prepares physicians to perform all techniques and best practices, including learning which areas of the body receive the best results, understanding patient selection, and delivering these injections precisely and without complication.
This program is delivered by our who are experts in all Mesotherapy protocols and techniques. By the end of the second day of our Mesotherapy certification training, you will be abundantly prepared to immediately begin treating your own patients. You will be given a Step-By-Step "Cookbook" outline so you know exactly what solutions to use for every condition, i.e. Fat versus Cellulite. You will also perform all the techniques on live patients during utilizing needle and injection meso guns.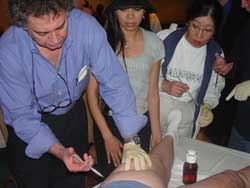 Mesotherapy injections are fairly painless; the results are outstanding and are comparable to liposuction without surgery in small body fat areas as well as the chin and eyes. The technique is a simple 10 minute procedure with no down time and is much safer than Liposuction, which does not reduce cellulite and in many cases cause cellulite to be more pronounced. Mesotherapy has gained significant popularity because of these reasons as well as the results obtained in conjunction with other aesthetic treatments or services.

Our Mesotherapy training course addresses causal elements such as adjunctive and conjunctive therapies. Mesotherapy is the perfect adjunct for women after significant weight loss, lipo-surgery, or after giving birth. In addition, new technologies such as RF-Thermal Body Circumference devices (VelaShape/Accent) and other skin tightening lasers obtain better results when used in conjunction with Mesotherapy. The training will provide information on other causal elements of cellulite in women including HRT (high estrogen levels), smoking, poor diet, impaired venous, lymphatic drainage and genetic disposition to smaller subcutaneous fatty chambers. Our Mesotherapy and Cellulite Treatment training will also include an understanding of the myths associated with cellulite (i.e. obesity, overweight) and a development of the skills able to consult, discuss, and create a real solution to your patient's needs.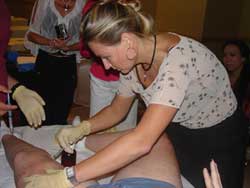 Attendees> will also learn the latest technologies available in reducing spot pockets of fat and cellulite. You will receive detailed instruction on these non-invasive technologies and learn how this impacts fat and cellulite. Hands-on sessions will enable you to try these technologies on actual patients. Join the other 20,000+ physicians worldwide that provide thousands of these treatments cumulatively each year. Give your patients what they are asking for and needing, give results and not just treatments!
Objectives
Understand and perform all Mesotherapy Course Techniquesas relates to:

Cellulite removal
Spot Fat Reduction
Body Contouring and weight loss of the abdomen,
arms, back & legs
Face and Neck Rejuvenation
The Meso-LiftThe Non Surgical Face Lift

Demonstrate needle placement technique to supervising instructors during the Hands-On Training sessions.
Understand the mechanism of action and the specific protocols for using Phosphatidycholine (PPC).
Outline and Detail the Specific Supplies and Solutions needed, including appropriate dosages and where to order needed supplies.
Understand exactly how the new technologies that deliver fat-burning substances without using needles actually work.
Learn when and how to use the different delivery methods: traditional with needles, the MesoGun, or the newer technologies now available. You will learn this through Hands-On training sessions in the afternoon rotations.
Perform the initial cosmetic evaluation and patient selection suitable for Mesotherapy.
Gain a thorough understanding of the grading of cellulite in evaluating the patient and understand the various protocols that will deliver results and which types of treatments will be most effective.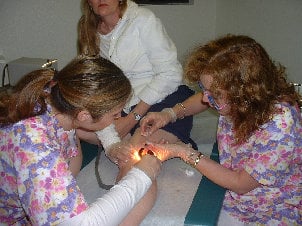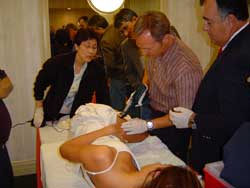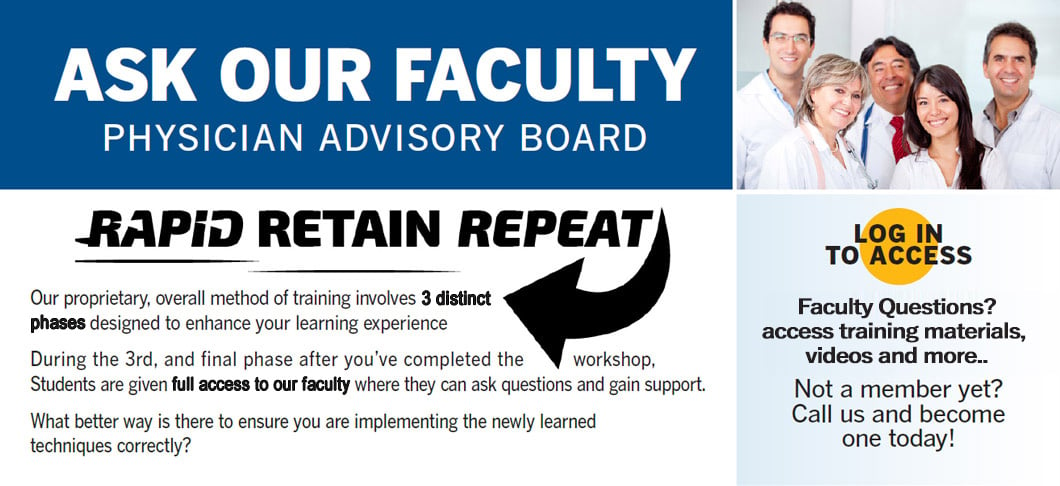 Pricing Options and Savings Comparison
Compare savings between a single seminar and the various membership options. If attending more than one seminar, memberships typically are the best value.
Platinum
Membership

Attend all 26 Aesthetics, Medical & Anti-Aging Workshops FREE ($20,000 Value) Price increase to $3,999

Pain Specialty Membership

Attend all 7 Pain Management Workshops FREE ($10,000 Value) Price increase to $4,499

Diamond
Membership

Attend All Platinum, Platinum Plus & Pain Workshops FREE ($30,000 Value) Price increase to $5,999

Locations & Registration